Kpop fans across the world united to trend the hashtag "#JusticeForSeungri" last week as more news emerged that the retired superstar, who is currently serving his mandatory military service in the Republic of Korea Army, may have been indicted because of dubious investigative practices by South Korean law enforcement agencies.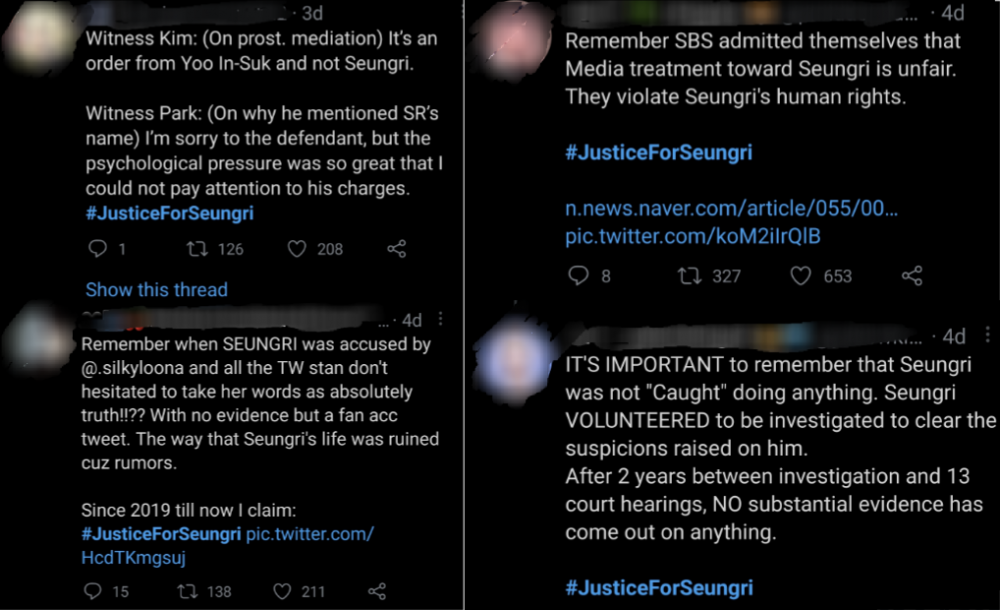 Seungri is currently under trial for nine charges at the Military Court in Yongin after his case was shuttled between various jurisdictions for more than half a year after his indictment without detention in January 2020. Seungri has pleaded not guilty to all charges, except the one for illegal exchange of foreign currency. After fourteen hearings thus far, the prosecution has yet to get any kind of incriminating testimony from their own witnesses regarding the charges against Seungri.
News reports pertaining to Seungri's past hearings reveal a consistent pattern of witnesses for the prosecution redacting or changing the statements they had made to the police during investigation. Their statements in court reveal that Seungri was not involved in any of the charges for which he has been indicted. While several witnesses testified that the police had used pressure tactics and leading questions to make them imply things they did not mean in their statements, other testified under oath that the police had wrongfully inserted invented details that incriminated Seungri into their statements.
As a result of these stunning revelations, the presiding judge noted that he would scrupulously determine the truth of how these testimonies varied so much. Seungri's lawyer also stated in court that he has never come across a case where statements made to police and those made under oath and under cross-examination in court varied to this extent. He also stated on record that these dubious actions on the part of investigative agencies could have resulted from the fact that they were under political pressure to take some action regarding the so-called Burning Sun issue (which later proved to be a media concocted scandal after due investigation), and therefore may have used questionable and unethical tactics to indict Seungri on untenable grounds. Legal experts have also opined that widespread police misconduct, misuse of power, and confirmation bias could become factors in this high-profile case.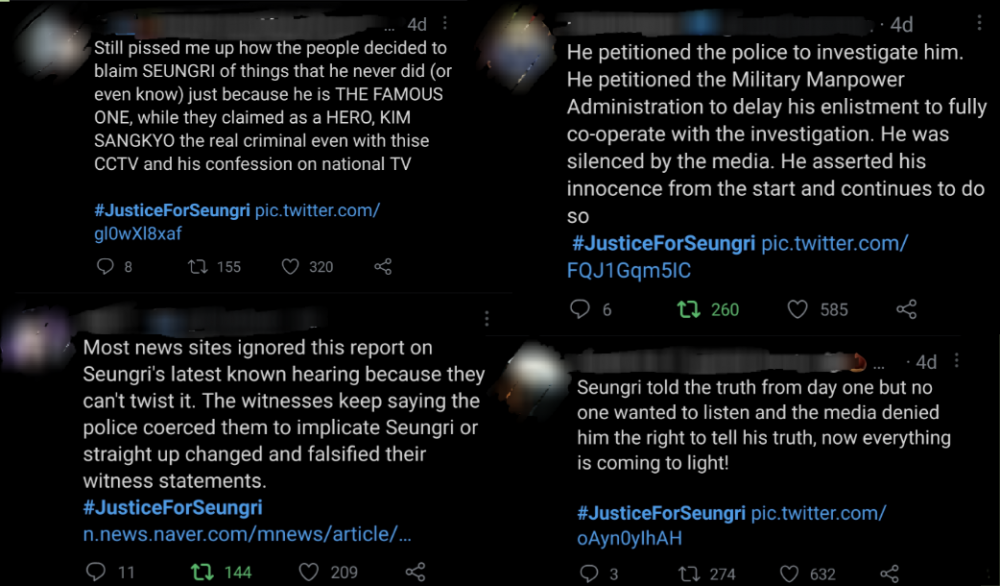 This raises the possibility that several of the indictments against Seungri may be dismissed out of hand as the witness statements on which they are based have been categorically proven false in court and there is no other material evidence tying Seungri to these charges.
Fans promptly responded to these new reports and started a social media campaign to clear Seungri's name, who they think has been a victim of ill-informed cancel culture. They also campaigned to call out media organisations which had been quick to write stories damning Seungri based on early rumours, but who have yet to cover his trial and the prosecution's repeated failure to prove any of their charges against him.