BTS's Jimin is the only musician in Korea's history to receive 3 national awards! The Order of Cultural Merit, the Plaque of Appreciation, and the Van Fleet Award.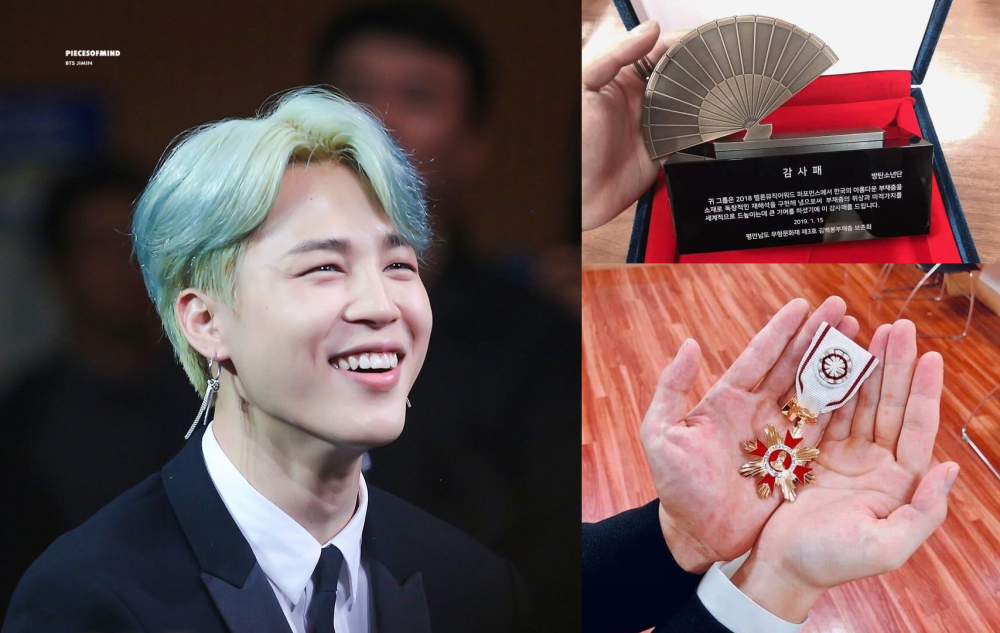 In February 2019, Jimin received a Plaque of Appreciation from Kim Baek Bong Korean Fan Dance Conservation Society, recognizing his outstanding performance of the traditional Korean fan dance at the 2018 Melon Music Awards.
Jimin shared a photo of the plaque on Twitter to share the honor with his fans:


"Today, we've received numerous awards. I'm sincerely thankful today and hope that we could share this with everyone through better music and performances in the future. To all of you who always support us, we sincerely thank you and love you."


The Filter singer was awarded one of the most important awards in his country; in 2018, he received the 'Order of Cultural Merit' medal from the South Korean government with his bandmates.
Jimin expressed his gratitude :
"Our leader hyung always makes the speeches, so I feel like my heart is going to explode now that I'm up here. Everyone, this award is significant because it was created by our members, company, families, staff, managers, and you guys. I want to say once again that it feels huge to me. So I am very thankful for everyone who is always with us, and I wanted to say that this award goes to all of you. Thank you so much. I think we are probably the youngest here, but it is an honor to be able to meet industry seniors who we respect very much. We will do our best to have a good influence on many people, just like them."
In May 2020, Jimin received the James A. Van Fleet Award along with his bandmates from The Korea Society. The prestigious award is bestowed for contributions to the promotion of US-Korea relations.
Receiving 3 national Awards at a young age is a huge milestone; you can only achieve it due to hard work and dedication. The one common thing between these awards is the great contribution to sparking the interest of the global audience to Korean culture.
Congratulations, Jimin, for being the pride of your country, and I can't wait to see what 2021 has in store for you.