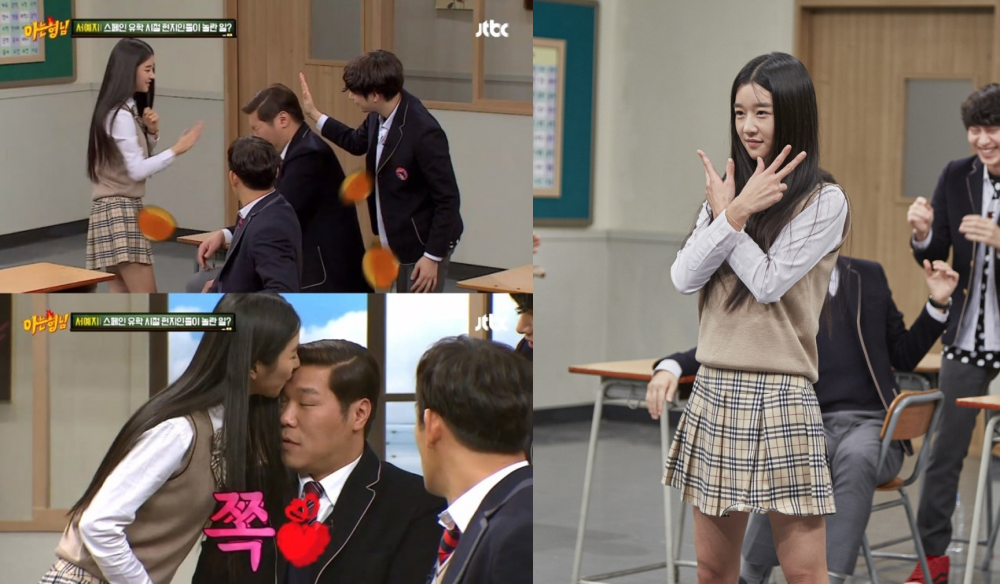 Just yesterday, Dispatch reported that Seo Ye Ji was the mastermind behind Kim Jung Hyun's rude behavior towards Seohyun on the set of drama series 'Time.'
Since then, there have been various other reports and accounts of the situation at the drama film set given by different staff members. According to these staff members' stories, Kim Jung Hyun allegedly refused physical contact with Seohyun because of his private love life while dating Seo Ye Ji.
With the controversy heightening further as time passes, many netizens have gathered to an online community to criticize the actress on her past actions. One netizen created a post with the title, "Seo Ye Ji's duplicity," and included gifs of Seo Ye Ji on the JTBC entertainment show 'Knowing Bros' back in 2017.
Seo Ye Ji received much love for her cool personality during that time that contrasts with her fragile and feminine visuals. In one moment on the show, the members of 'Knowing Bros' did rock paper scissors to decide who would get hit on the forehead by Seo Ye Ji. In the end, Seo Jang Hoon was chosen, and Seo Ye Ji hit his forehead after saying, "Sorry, Jang Hoon."

Seo Ye Ji flicked Seo Jang Hoon's forehead with all her might. It made a loud noise, and Seo Jang Hoon seemed speechless due to the pain that followed. Soon after, Seo Ye Ji offered to blow on Seo Jang Hoon's forehead but instead gave him a sudden kiss.
After seeing Seo Ye Ji's sudden actions, netizens couldn't help but criticize Seo Ye Ji's duplicity, and many expressed their discomfort in her actions.
Netizens commented, "That's sexual harassment," "What the heck is wrong with her?" "I feel like she can be very manipulative," "That's very uncomfortable to see, lol" "omg, what is she doing?" "I thought it was weird she did that when I saw this episode when it first aired," "I would understand if they were close friends before, but it's weird she would kiss someone she doesn't know like that," "Look at actor Oh Ji Ho's facial expression, lol," "She's so crazy," "You can see her crazy personality here too," and "I really don't get her actions here."