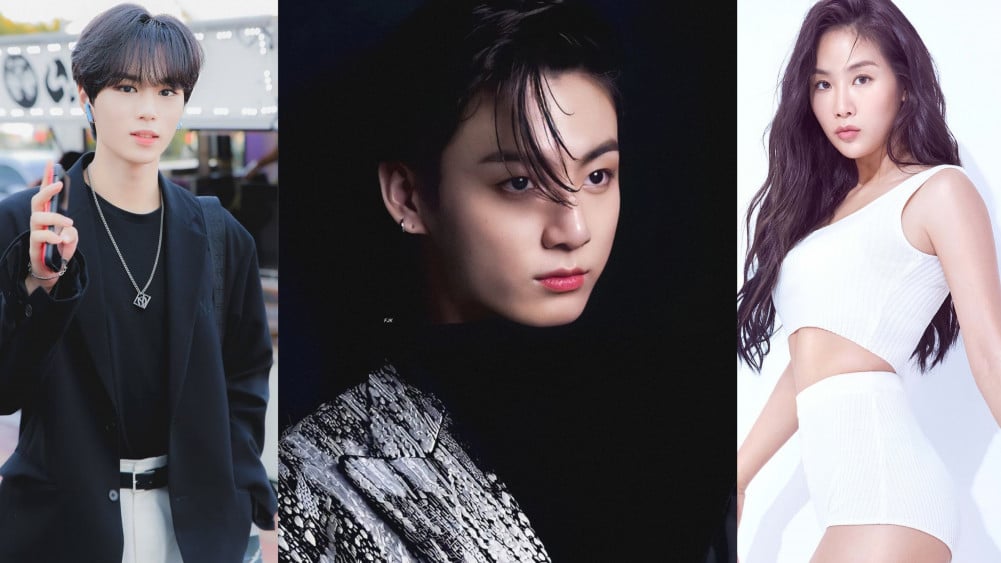 Many artists and singers have been eagerly waiting for a chance to have a collaboration with BTS's Jungkook for his amazing vocals and talent. Back in 2019, in an idol survey by Ilgan Sports Newspaper, idols were asked who they want to have a collaboration with. It was reported that Jungkook was among the most frequently mentioned artists.
1.Chase Huglin
Chase Huglin posted a tweet of Jungkook's solo song 'Euphoria' and praised his vocals. He also said it would be amazing to collaborate with Jungkook in the future.
2.Junseo - WEi
Junseo mentioned Jungkook as his role model and expressed his wish to have a collab stage with him. "The singer I want to have a collaboration stage with is Jungkook sunbaenim. The reason is that he's my role model. There's nothing he can't do. He is really cool when performing on stage."
3.Soyou - Singer and former SISTAR
Soyou mentioned Jungkook as the artist she wants to sing a duet with because his voice is extremely nice.
4. FROMM - Singer-songwriter
FROMM mentioned Jungkook as one of the BTS members she likes, and answered Jungkook as the artist she wants to have a collaboration with.
5. Jamie Park - Singer-songwriter
Jamie Park said she wants to have a collaboration with Jungkook because he has a lovely voice.
6. Han Yeoreum - Singer
Known South Korean singer Han Yeo Reum mentioned that she wants to work with the idol in the future. "If I have a chance, I want to do a collaboration with Jungkook, whom I really like."
7. Charlie Puth
When questioned abt any future collab with BTS, Charlie Puth said that he was sure it would happen. The singer got a "We don't talk anymore" collaboration stage with Jungkook.
8. John. K
John K. posted a clip of him, on his Instagram, playing the GCF Teaser of Saipan that Jungkook tweeted on that day with his song as the BGM. He asked for a collab between him & Jungkook. "Jungkook & John.K collab in the works?"
9. Dan + Shay
Jungkook's '10000 Hours' Cover amused Dan+Shay, Duo, and they said that they would love to collab after hearing it. The Duo wrote, "this sounds amazing, thank you so much for singing it!" and responded to a fan's question about collaboration. "We would love to; this is so amazing."
10. Hyun - Seven O'Clock
Hyun mentioned Jungkook as one of his role models. He also said he listens to Jungkook's cover songs a lot and choose Jungkook as the idol he wants to get closer with.
11. Tori Kelly
When asked if the singer would love to collab with Jungkook, she answered that she would absolutely love to do so. Jungkook has previously sang covers of her songs.
12. Yoon Jongshin
Singer-songwriter Yoon Jongshin praised Jungkook in Monthy YJS (2018). He said Jungkook sings really well & he likes his voice so much. He studied Jungkook's vocals & is considering writing a song that'll suit his voice. He also said that Jungkook's voice is very charming.
We hope to see them working soon and see him write a song for Jungkook. 💖
13. MAX
American Singer-Songwriter MAX shared his hopes to collab with K-Pop Idols, including Jungkook. MAX talked about how Jungkook had recommended his song "Love Me Less," & MAX had responded through his Twitter with his hopes to meet him in person.
14. Kim Hyun Chul
South Korean singer-songwriter & music producer mentioned Jungkook. He mentioned Jungkook as one of the good artists nowadays that he'd like to work with and who he heard are interested in the genre of City Pop. Kim Hyun Chul is a famous singer-songwriter and producer and was one of the panelists when Jungkook appeared in MBC's King of Masked Singer.
15. OnlyOneof's Junji
JunJi, a member of OnlyOneOf, said before the press, "I watched videos of Jungkook sunbae-nim of BTS a lot. I studied various tones & vocals, and his was the most touching vocal to me. Jungkook is my role model. I really want to meet him."
16. Ariana Grande
Although it's just a speculation, several rumors have spread throughout the year, having high hopes for an Ariana Grande and Jungkook collaboration. Jungkook had expressed his support for Ariana's music steadily for several years. Last year, when the 2 met at her concert, the event rocked the internet & the music business worldwide. It would be great to hear a collaboration from them.
17. Justin Bieber
After Jungkook tweeted on Justin Bieber's song, his latest single, Yummy, Scooter Braun, the manager of JB, was rooting for a JB and JK collab and teased the possibility on his Instagram page. If the manager of the artist is interested, it's possible that they would collaborate one day.