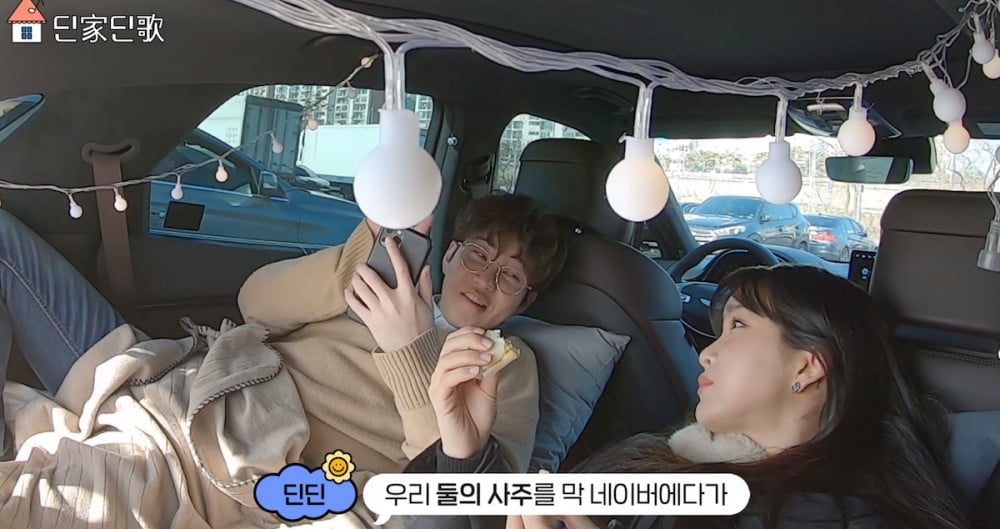 On February 5, rapper DinDin and Rainbow's Hyunyoung greeted viewers with a new installment of their ongoing YouTube vlog series, 'We Got Married'.
In the thumbnail to their new vlog, DinDin and Hyunyoung parodied a 'Dispatch' news report, causing laughter. It turned out, the couple decided to enjoy a car date on this day after scoring an endorsement deal with 'Hyundai', modeling the 'Genesis GV70'.
While munching on snacks inside the spacious 'Genesis GV70', DinDin pulled up an online blog post about him and Hyunyoung which caught his eye. The blog post shared an analysis of the couple's fortunes, and advised, "If these two are to marry, they should marry in 2020 and have a child in 2021. After giving birth, the couple will have 5 more years to find success in entertainment."
Here, Hyunyoung asked, "But is it that I'm going to be successful only if I marry you, or can I still be successful if I don't marry you?"
In addition, during their casual car date, DinDin and Hyunyoung talked about releasing a collaboration single together. DinDin said, "Is that the start of 'We Got Married' season 2?" Hyunyoung remarked, "Yes. Whenever people start to lose interest in us, we need to do something eye-catching again. And then if people get totally disinterested, then we should get married for real."
Do you want to see DinDin and Hyunyoung continue their YouTube series 'We Got Married' in season 2?