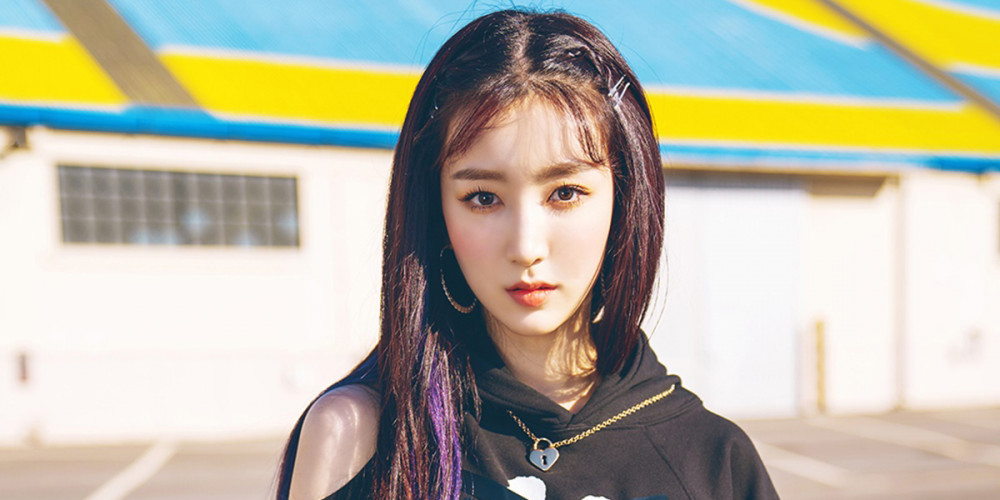 On December 31, girl group Gugudan's leader Hana dedicated a lengthy letter to fans via the group's official fan cafe.
Known as Jellyfish Entertainment's first ever girl group, Gugudan will officially wrap up their promotions after 4 years on December 31, 2020. Afterward, the members plan on promoting as soloists and actresses in music, entertainment, dramas, etc.
Read Hana's full letter to Gugudan's fans, also known as Dear Friends, below.
"Dear Friends,

Hello, this is Gugudan's Hana. It looks like we brought some very sudden news during an important time, when everyone is bringing the year to an end. My heart is full of disappointment and apology. Do you remember that hot summer in 2016? I still can't forget that day, when I stood on stage for the first time ever as Gugudan and met our Dear Friends for the first time. I'm sure I will remember that day for the rest of my life. The time that I spent as Gugudan's Hana with my other members was a very precious time of my life.

After this sudden news broke, so many people sent me words of comfort and encouragement, looking back on our past efforts and struggles. Of course, not every day was spent with smiles, but I was still happy and was able to dream bigger dreams because of our Dear Friends who acted as strong pillars of support right by our side. I also struggled to find the right words to address you all as I prepared this letter. I wanted to give you strength during the most uncertain time, and I'm sorry.

Whenever I received messages from our Dear Friends, telling me that they liked me for being a good and resilient person, telling me that they were happy to be my fan, I was strengthened more than ever. I hope that you will know that the motivation that moved me to become an even more resilient person now was our Dear Friends.

Today in particular was a day where all of the memories of the past felt so clear and distinct, like looking through photos of the past one by one. I'm thankful that when I think of my members and our Dear Friends whom I love, I smile, not sigh. I am so sad that I cannot meet you all in person due to COVID19, but I wish that you will please take care of your health, and I hope that we can meet again some day. I sincerely thank you with all my heart for cheering on and loving Gugudan as Gugudan's most Dear Friends.

Lastly, I love you and miss you so much more than you can imagine. I will do better to repay you for all your love. I love you Dear Friends.

Sincerely, Gugudan's Hana."