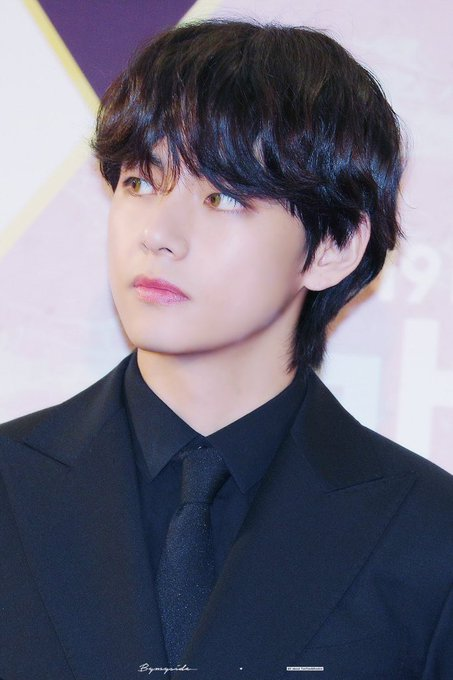 BTS's V who is known as " VISUAL REPRESENTATIVE OF KPOP," "FASHIONISTA KING," "ULTIMATE STAN ATTRACTOR OF KPOP INDUSTRY " keeping proving his title time to time once again proved himself as - China's favorite K-pop boy, V, once again claims his unmatched popularity status in China as he becomes the only BTS member to enter the top spot on China's biggest platform Weibo.

Not only this, but he also drew attention from verified accounts and magazines.
One of the most popular entertainment bloggers with 10M+ followers posted an update on Weibo about Taehyung regarding his simple and comfortable airport fashion and style.

A top-rated fashion network with over 8.5M followers updated a post with Taehyung putting him in the list of male stars with red hair stylings: a hair color that brings a warm burst of red.





Taehyung also dominated China's online video platforms as:
1. On Bilibili, Taehyung's channel gained 1.72 billion views and ranked highest among BTS members.
2. On Douyin, Taehyung surpassed 2.1 billion views, which is highest among BTS members.
Our FASHIONISTA KING keeps inspiring people with his sense of fashions. And everything that Taehyung wears is sold out in minutes.
Several Fashion and Beauty Magazines in China have been posting about V's unique style on their official Weibo accounts.
Ray Li Magazine (one of the top 10 most influential fashion-beauty magazines in China), Phoenix Network FASHION, MAGIA Magazine, ELLE MEN Youth, Vogue China, Marie Claire China, and several other magazines and some popular fashion bloggers acknowledged and appreciated V's unique fashion style, male god-like facial features and hot hairstyle on Weibo.
On the Korean Male Artist Weekly Popularity Chart on Baidu Baike (October 19-25, 2020), Taehyung ranked #19, which is the highest among BTS members.





Taehyung was ranked #11 in the list of Sina Entertainment Cultural Grand Ceremony's TOP 15 Most Popular Foreign Celebrities in China.

Not only this, but Taehyung also dominated "Super Topic," which indicates the power of a celebrity's personal fan clubs in China. However, it is not easy for foreign celebrities to enter the Top 100, but V easily managed to make it to the Star List.

V is the most popular BTS member in China with the most popular hashtags on Weibo.
He is the only BTS member to be in the top 5 of Super Topic Japanese and Korean star ranks.



China seems to be becoming another "Teteland," as V's popularity continues to soar globally, dominating not only Weibo but every social media platform, including Twitter (most liked tweet by any Asian artist), Instagram (most liked photo of male Korean Artist), Tiktok (2 hashtags over 13B views) and even Twipple Japan (highest ranked Korean celebrity).