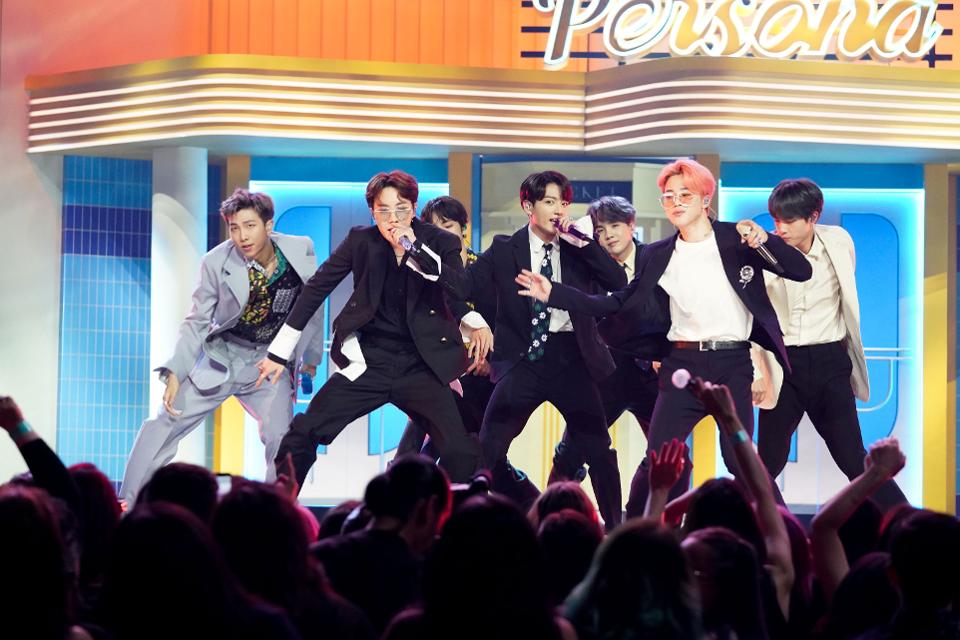 BILLBOARD MUSIC AWARDS -- Show Backstage -- 2019 BBMA at the MGM Grand, Las Vegas, Nevada -- Pictured: BTS -- (Photo by: Todd Williamson/NBC/NBCU Photo Bank via Getty Images)
NBCU PHOTO BANK VIA GETTY IMAGES


South Korean supergroup BTS makes its debut at No. 43 on the Forbes Celebrity 100 list, taking home $57 million in pretax income over the past year. The seven-member crew—composed of Suga, J-Hope, Jimin, V, RM, Jin and Jungkook—is the sole K-Pop act and boy band on this year's list (check out the full 2019 ranking here).
A significant portion of the group's earnings derive from its massive Love Yourself World Tour and its corresponding Love Yourself: Speak Yourself Stadium Tour extension, in support of their record-breaking Love Yourself album trilogy: Her, Tear and Answer.
Following the group's successful first run in North America, Europe and Asia, they added new dates and upgraded arenas to stadiums. Starting in May, the new dates included sold-out double runs at Soldier Field, MetLife Stadium and the Rose Bowl. The band's first six stadium sets in the U.S. grossed $44 million and sold just under 300,000 tickets, averaging just over $7,000,000 per night, according to Billboard Boxscore.
The release of two concert films also boosted BTS' cash flow: November 2018's Burn The Stage: The Movie, which tallied $18.5 million globally, and BTS World Tour: Love Yourself in Seoul, a concert movie in honor of their world tour; the latter clocked $11.7 million worldwide (excluding Korea) as of January.
LAS VEGAS, NV - MAY 01: J-Hope, V, Jungkook, Jimin, Suga, Jin, and RM of BTS accept Top Duo/Group onstage during the 2019 Billboard Music Awards at MGM Grand Garden Arena on May 1, 2019 in Las Vegas, Nevada. (Photo by Kevin Mazur/Getty Images for
GETTY IMAGES FOR DCP
source: https://www.forbes.com/profile/bts/?list=celebrities#7c08b8353966
The Forbes global Celebrity 100 ranks "front of the camera" stars around the globe using their pretax earnings from June 1, 2018 through June 1, 2019, before deducting fees for managers, lawyers and agents. Forbes figures are based on numbers from Nielsen Music, Pollstar, IMDB, BookScan, ComScore and NPD, as well as interviews with industry experts and many of the stars themselves. The result is the definitive index of who's making what in the global business of fame.


The K-Pop supergroup released its record-breaking 'Love Yourself' album trilogy: 'Her,' 'Tear' and 'Answer' in 2017 and 2018.
The band embarked its Love Yourself World Tour last year, adding stops at MetLife Stadium and the Rose Bowl as part of their tour extension.
'Map of the Soul: Persona,' the group's latest album, debuted at No. 1 on the Billboard 200 in April.
In June, the band released it new app BTS World, which lets fans virtually manage the South Korean superstars.
Credit: @Viv1388,@Mjay14
Monica Mercuri Contributor Hollywood & EntertainmentI
cover music, hollywood and entertainment for Forbes