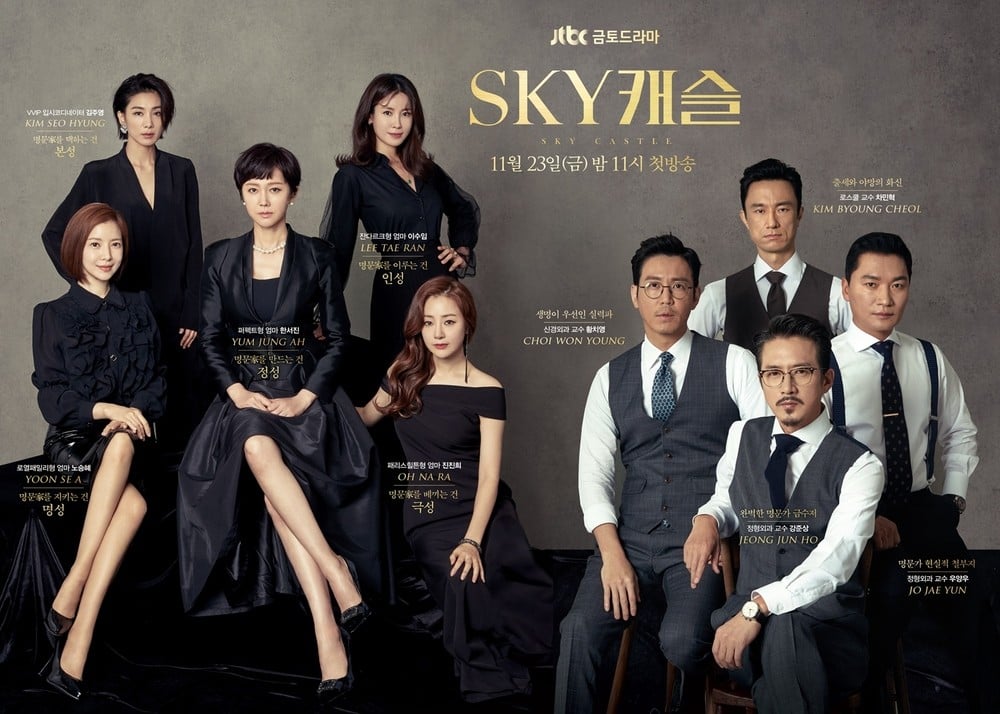 There's a new, unexpected drama that is gaining rapid attention by netizens' word of mouth: JTBC's ongoing Fri-Sat drama series, 'Sky Castle'!
In the beginning, many people had no idea that a drama called 'Sky Castle' was even airing, and no one seemed to have very high expectations. However, according to the Nielsen Korea chart below, viewership ratings for 'Sky Castle' skyrocketed from a mere 1.727% to 7.496% in a matter of 4 episodes!

The most recent, December 7 broadcast of 'Sky Castle' episode 5 also recorded an average viewership rating of 7.5%, displaying that the drama's quickly built, core-audience is still going strong. (The latest episode of currently airing JTBC Mon-Tues drama 'Clean With Passion For Now' recorded an average viewership rating of 3.4% back on December 4.) Viewers' attention toward rerun episodes of 'Sky Castle' is on the rise, according to reports.
So then comes the questions: What is this drama about, and what about it has got viewers hooked?
Judging by a first glance of the two official posters (above and immediately below), the drama's lead casting doesn't exactly give off the vibe of a series which might appeal to a wide age group.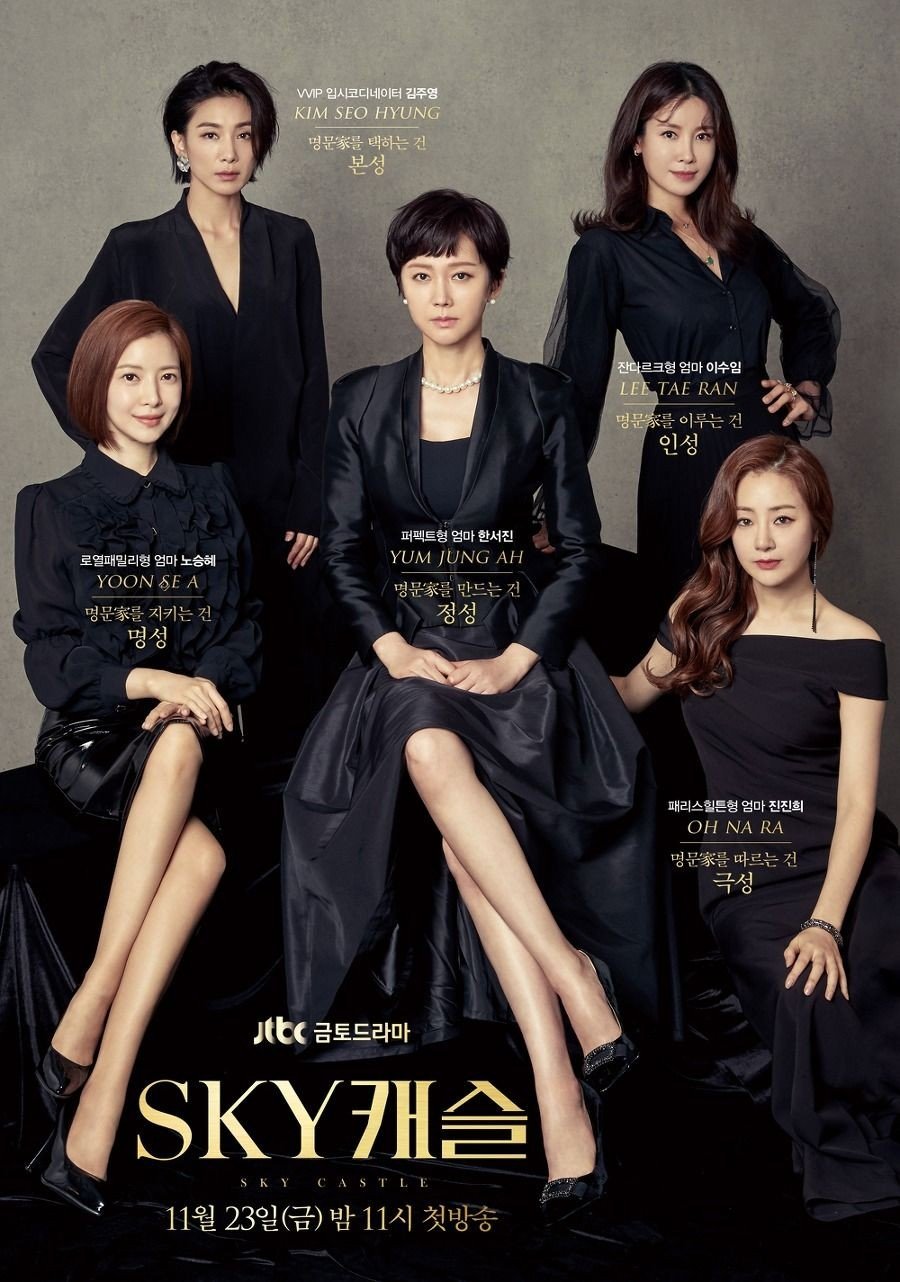 Starring a loaded cast of veterans in the acting field including Yeom Jung Ah, Lee Tae Ran, Yoon Se Ah, Kim Seo Hyung, Jung Joon Ho, Choi Won Young, Jo Jae Yoon, and more, 'Sky Castle' may appear to deal with a dark and heavy topic at first; however, the drama is actually a black comedy genre!
The plot of 'Sky Castle' deals with the richest, 0.1% social class of Korean society, as they all reside in a fictional structure called the 'Sky Castle'. Centered around the lives of the women who live in the 'Sky Castle', they serve their husbands as kings, and dream of raising their children into the finest princes and princesses of all. The drama is a very exaggerated and satirical depiction of rich society.

And netizens' current reactions to watching 'Sky Castle'? They're saying, "I literally screamed because today was the first day I got to watch this on its regular broadcast. This is literally my life drama right now", "I don't normally watch dramas but I saw this in passing one day and had to go look for the first 4 episodes on the spot", "This drama is super well made kekekeke. Nothing big's even happening, they're just cutting up a credit card or something stupid but the background music made me get so anxious", "My life was so boring until I found this drama", "All the acting in this is real crazy", "This drama is so f***ing good!", and more!
In addition to the crazy exaggerated drama which takes place among the adults in this satirical series, 'Sky Castle's young cast lineup is packed with rising stars to look out for, including SF9's Chani, popular web drama 'A-Teen' star Kim Dong Hee, well-known child actress Kim Bo Ra, rising rookie star Jo Byung Gyu of 'Money Flower' and 'Dokgo Rewind', and more.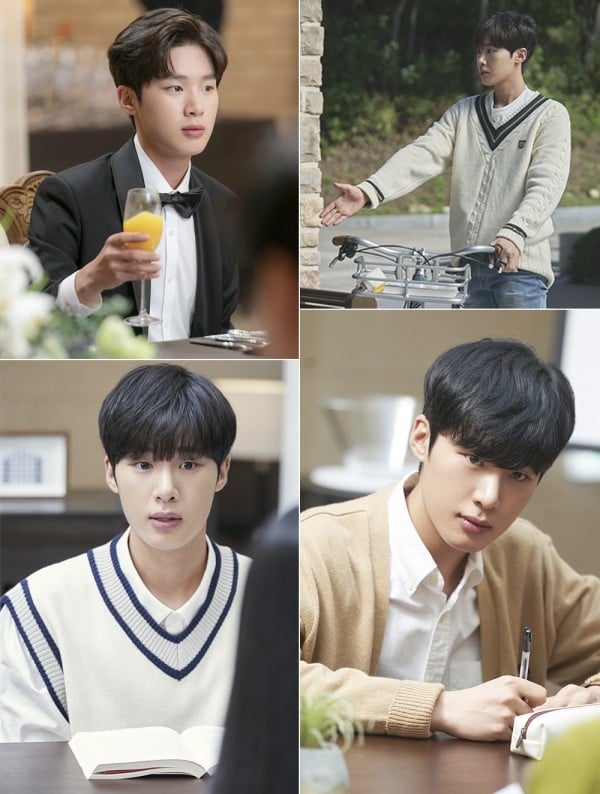 Are you interested in giving JTBC's 'Sky Castle' a shot? If so, you can start by checking out the drama's relationship chart, below.