A victim revealed her identity and described how she was sexually harassed by
Oh Dal Soo
.
The #MeToo movement is currently sweeping across the Korean entertainment industry, and several actors are accused of sexual harassment. Among the alleged sexual harassers is trending actor Oh Dal Soo. The actor remained silent on the issue for near a week, then finally made an official statement on February 25 and denied all accusations. 
However, another victim came forward with accusations against Oh Dal Soo. The victim even revealed her identity on JTBC's 'News Room' and shared her devastating experience. 
Theater actress Uhm Ji Young first said, "After seeing the first post (of accusations against Oh Dal Soo), I also gained confidence and was waiting for the right timing to reveal my story. But the first victim was criticized (witch hunted) and she ultimately took down her post. I waited because I thought Oh Dal Soo would apologize but because the person (the first accuser) didn't reveal her identity, he tried to cover it up like nothing ever happened, and I couldn't forgive that."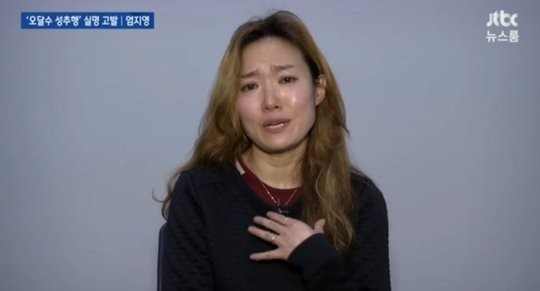 Uhm Ji Young explained she met Oh Dal Soo in 2000. The actress asked Oh Dal Soo for acting advice, and he insisted they talk in private. He took her to a motel, saying he doesn't have a permanent home after divorce. Oh Dal Soo then told her to take her clothes off to get comfortable. Uhm Ji Young claims Oh Dal Soo even tried to take her clothes off for her and laid his hands on her body. 
Uhm Ji Young believes there are more victims out there who were sexually harassed by Oh Dal Soo. She encouraged them to overcome their fears and reveal their stories. Uhm Ji Young also stated that she is not afraid of getting sued by Oh Dal Soo. She said, "Yes, I am worried. He is indeed the 'Ten Million Fairy' and I wondered if people would believe me or him. My peers told me that I would be harmed for revealing this and told me not to do it but it's okay. If he sues me for false accusations then do it. It really happened to me and it's real. I don't have evidence but it's something that really happened to me. And even if he denies everything due to lack of evidence and doesn't have an apologetic mind, people will know when they see this. Why would I, an actress who goes on stage, put my name out for something like this?" Uhm Ji Young then broke down in tears. 
In response to Uhm Ji Young's accusations, Oh Dal Soo's agency stated, "We have nothing to say at the moment."