Another victim of
Jo Min Ki
's sexual harassment spoke up with shocking evidence. 
The actor ultimately admitted to sexual harassment after 10 women came forward with accusations against him. The shocking revelations continued on after his confession. 
On February 27, the 11th victim, who remained anonymous, revealed the Kakao Talk messages she exchanged with Jo Min Ki to Sports Chosun. 
The victim explained that she first met Jo Min Ki in August 2015 at a party, and naturally got introduced to him by her peers. The actor knew she studied wine, and asked for her number, saying he has questions. 
According to the victim, Jo Min Ki then sent her sexually harassing messages from August 27 to August 29, 2015.
At first, Jo Min Ki started the conversation with texts, stating, "When do you get off work?", "Let's meet in Seoul." Then he asked questions such as, "How's sex with your boyfriend?" 
The text messages read as follows:




Jo Min Ki: Your boyfriend must love it.




Victim: No he doesn't. lol We're platonic. We don't even kiss.




Jo Min Ki: Then you should at least do something with your long tongue. 




Jo Min Ki: Right now... I'm imagining so much by myself.. I'm so aroused. Very dangerous.




Jo Min Ki: I want to see you. I'm so hard.




Victim: Hul.. what do you want me to do;;




Jo Min Ki: You can get wet too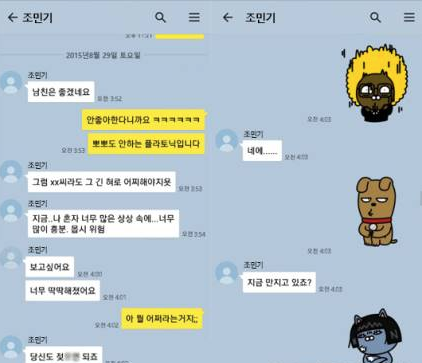 Jo Min Ki continued the messages, stating, "Are you touching yourself now?", "I'm already touching myself. Help me." The victim replied, "No", "You are dangerous", "I'm going to bed now." 
Jo Min Ki apologized, saying he's making a mistake but then ended the conversation with a photo of his private part. 


The victim claims Jo Min Ki also sent topless photos of himself, and said, "This is my body when I used to work out" and added, "Today both my mind and body are thirsty."
The victim claims Jo Min Ki sent a message of apology on August 28, 2015. Then in September 2015, Jo Min Ki texted her again to ask about a massage shop. The victim says she gave him the info and then cut off all contact with him.
As to why she is revealing this after 3 years, the victim explained that a lot of her peers also know Jo Min Ki and such a story was not easy to bring up. She backed up all the text messages she exchanged with the actor for evidence and recently got the courage to reveal them as the #MeToo movement is active. 
Meanwhile, the police have officially started the investigation on Jo Min Ki.