Can we please treat idols like humans?
---
The K-pop industry is known and well loved for its colorful, brighter than life, glowing neon vibrancy. Idols in this industry are beautiful, crazy talented individuals that sing, dance, and smile in front of the camera. Top idols are loved and even worshipped by thousands and thousands of fans across the entire world, so what could possibly go wrong? 
But as events in 2017 have shown, K-pop is not always as candy sweet as it presents itself to be.
Idols, more so than their other counterparts in the Korean entertainment business, are held strictly to a standard of perfection. From their physical looks to their group image, to their personality, the Korean industry expects a certain type of perfection. No scratch that, they demand perfection.
Body weight, for example, has been a central topic of discussion in both girl and boy groups, but especially for female idols. Girl group members have been too often a target of body shaming and have subjected themselves to unhealthy and sometimes dangerous diets to fit those standards. Ailee with her only 500 calorie intake per day, Dasom's cucumber diet, GI OneKet's diet of one bottle of soymilk a day, to list just a couple.
Idols, such as IU and former Oh My Girl member JinE, have also confessed that they have suffered from eating disorders from the stress of the industry that believes the magic number for girl group members to be 45 kg or 99 pounds.
 Netizens even body shamed 15-year-old PRISTIN's Kyla 
Earlier in 2017, netizens even body shamed 15-year-old PRISTIN's Kyla for not being as skinny as the other members. Although many defended Kyla saying that she looked beautiful and perfectly fine, this event was another case that showed the harsh standards idols have to adhere to, no matter how young.
Yet body image is just one example of how an idol must strive for the ideal. Many times because of their precisely crafted image, these young adults miss out on the ordinary daily life interactions. Black Pink stated on KBS COOLFM's 'Park Myung Soo's Radio Show' that they weren't even allowed out to the local convenience store without their manager. On JTBC's 'Please Take Care of My Refrigerator', FT Island's Hongki spoke about how he would never go public with his relationships again after losing half of his fans with the dating news with Han Bo Reum.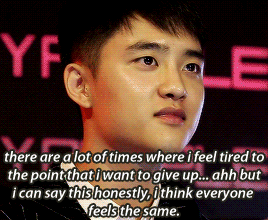 This may seem like a small price to pay for fame but missing out on these normal day-to-day experiences really does make a difference. On SBS' J.Y. Park's 'Party People,' EXO's D.O. truthfully talked about how hard it is not to be able to walk the streets normally like a regular 20-something-year-old. In a different vein, CL opened up about how she suffers panic, walking along crowded streets because of her sheltered life on tvN's 'Livin' the Double Life.'
Taking into consideration that all of these pressures are not including the realm of creating, producing, and performing music, one can only imagine how stressful being a K-pop idol can be. And the job of a creator and/or performer is a tough seat to be in.
As a visual artist, myself, who went to art school, I saw and felt time and time again how the pressures of creating something better or not feeling good enough, manifests and eats the soul. It's a constant cycle of creating and feeling fine before a sudden plunge into a mode of self-loathing for not being able to create something bigger and better.
The behind the scenes of creating music isn't shown enough in the Korean media to truthfully exhibit how demanding this field is. Of course, we see snippets of the realm like through Zion T's  'I Live Alone' episode or through 'Infinite Challenge' Song Festival but those are the neatly wrapped excerpts of a darker whole. These segments don't show the breakdowns that happen behind the scene or the crying or the giving up in these studios. Just imagine how tough it must be as a performer in the K-pop industry where trends are faster than light and artists are easily forgotten. Even Queen Lee Hyori has admitted to being tempted to leave her career when she was at the top of the industry to escape the almost inevitable come down.

True, there are also the sincerely spectacular aspects in the world of idols. To stand in front of a crowd of loving fans, to even receive the love of one fan, much less thousands is a blessing. To be able to perform is a blessing. To create music is a blessing. And to not discount that the efforts of the K-pop field, the industry has shown signs of improvement. More songs raising awareness about mental illness, body image, and promoting self-love have been released from major powerhouses such as BTS and MAMAMOO and artists like CL have unflinchingly bared her hardships, in an unprecedented way, in 'Livin' the Double Life.' But, there's still a long way to go. 
In no way am I reducing these features and development, but I do believe that the more we, as fans, understand our idols as people who experience the extreme pressures of this world, we will be in a better place to support them.

And I get it, as fans everything you do is for your idol. You love oppa, noona, unnie, hyung and want to be a part of their life, I get it, I really do, I've been there, I'm still there as a matter of fact. Yet maybe we should remember that they are human beings too and just maybe give them a little bit of breathing space. Instead of commenting that she/he/they look too fat or should lose weight, we think about what standards we are adhering to before pressing the enter button. Instead of just being sad that oppa or noona is getting married or has a significant other, we should congratulate them instead. Because isn't our idol's happiness, ultimately our happiness?