VIXX
has disclosed more information on their upcoming second mini-album, including the album's title and tracklist.
SEE ALSO: [Interview] Ask anything and everything: Send us your questions for Minzy!
The mini-album titled, 'Error', includes songs "Intro", "Error", "After Dark", "Youth Hurts", "Time Machine", "What U Waiting For", and an instrumental version of "Error". Judging from the titles as well as the mini-album teaser released earlier this week, it looks like the album will have a mysterious and dark concept to it. The title song is speculated to be "Error".
Fans are anticipating this album, as the tracklist further reveals that VIXX member Ravi will play a huge part in its lyrical composition. Ravi has written the rap for "Error" and has also helped in writing the lyrics for most of the other songs. "What U Waiting For" seems to be a particularly special track, as Ravi not only wrote the lyrics by himself, but also composed the music.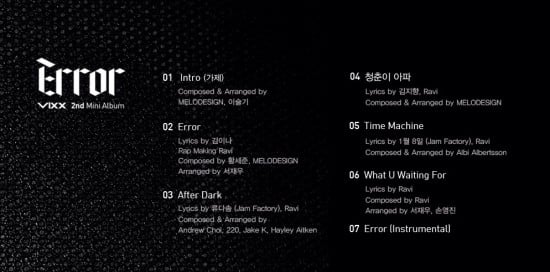 The second mini-album will be released on October 14. Until then, stay tuned as VIXX continues to reveal more details in the future.