Kris's recent Weibo update is attracting a lot of attention as it is his first in a long while and fans have been dying to know what he's been up to lately.
This update is definitely intriguing but also quite ambiguous as he posted three sun emoticons and tagged Guo Jing Ming, a famous Chinese novelist, screenwriter, and film director. He is particularly famous for writing the 'Tiny Times' series and 'City of Fantasy' and it is rumored he offered a movie role to Kris for his 'Tiny Times' production multiple times, but was turned down by SM Entertainment.
Now that Kris is involved in a lawsuit to leave SM Entertainment, people are speculating Kris might get another chance to work with Guo Jing Ming. Not to mention, the Weibo account for 'Tiny Times 3' is following Kris at the moment. Stay tuned for updates on this rumor.
-
[Update] - In addition to Kris mentioning the 'Tiny Times' writer, the CEO of the Beijing entertainment company that had participated in the production of 'Tiny Times' also wrote a comment on Weibo, mentioning the two. He posted, "Fate is quite a fascinating thing. Because of his agency's refusal last year, Wu Yi Fan and 'Tiny Times 3' were not able to come together. However, those who are fated to meet each other eventually meet again," further leaving netizens to guess that this could mean that Kris and the writer will be working together on a new project.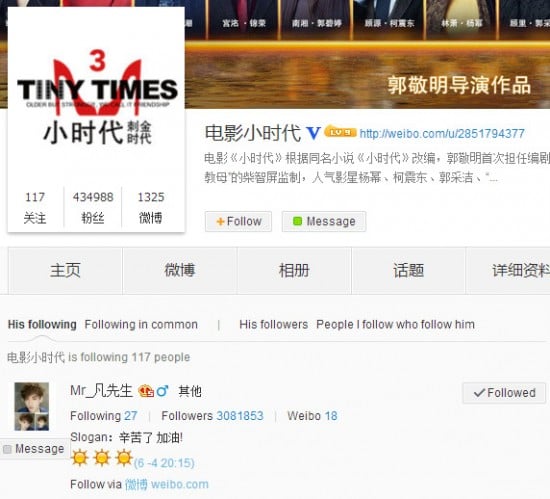 [Thanks to everyone who sent this in.]