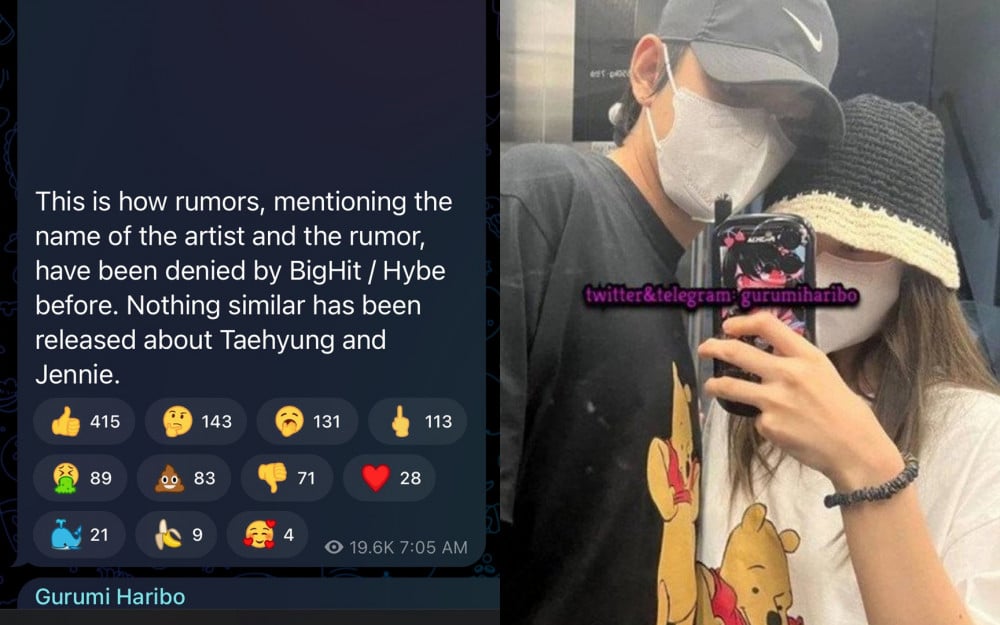 On September 29, HYBE released a statement stating that they have taken legal action against malicious commenters and individuals who have violated the rights of its artists. The entertainment company explained that there is a "specific user" who has been spreading malicious rumors about BTS.
This led many to believe that HYBE was finally taking legal action against Gurumiharibo, the person who leaked alleged photos of V and Jennie through various social media platforms. However, Gurumiharibo stated through the Telegram chatroom that they didn't receive any legal notice from anyone.
Gurumiharibo stated that HYBE's statement did not specify what rumors, against who, and was written very vaguely. The leaker stated, "Also, I have not received any legal notice from anyone." This individual also confidently claimed, "if somebody wants to sue me for defamation and/or spreading untruths, I will be willing to provide relevant evidence of my claims under the name of the law."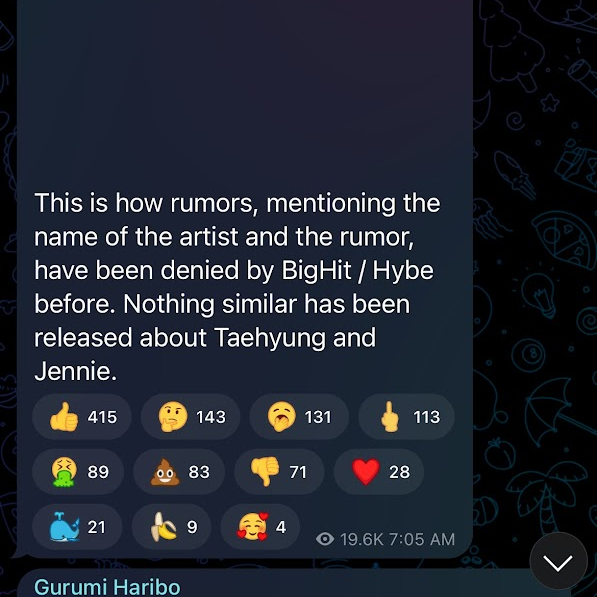 The leaker added screenshots of how Big Hit would quickly deny rumors such as the denial of RM's marriage rumor, Suga and Suran's dating rumor, Lee Yu Bi and Jungkook's dating rumor, and V and a chaebol family's daughter dating rumor. With the screenshots, Gurumiharibo pointed out that HYBE/ Big Hit Music has yet to deny the rumors about V and Jennie as they did so with past rumors involving BTS. The leaker wrote, "This is how rumors, mentioning the name of the artist and the rumor, have been denied by Big Hit/ HYBE before. Nothing similar has been released about Taehyung and Jennie."