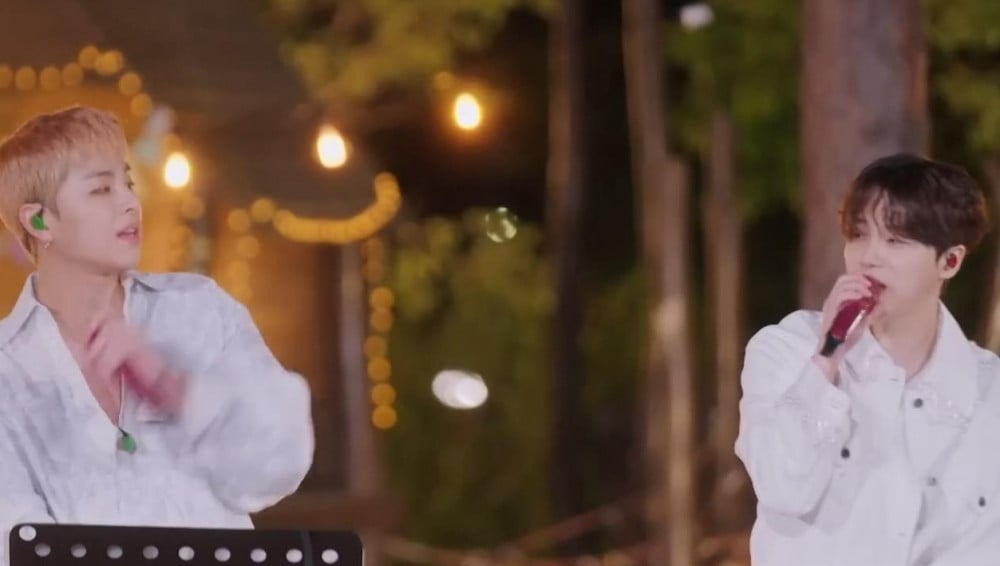 iKON's main vocalists, Koo Junhoe and Kim Jinhwan, serenade viewers with acoustic versions of their hit debut song "My Type" as well as their latest title, "But You," of album "FLASHBACK."


"Begin Again Open Mic" is the online version of jTBC's music program "Begin Again." Both of iKON's main vocalists join the 16th busking lineup. Together they opened the busking show at a camping site with an acoustic version of their own debut song, "My Type," setting the summer camping ambience.
In a separate duet, Junhoe and Jinhwan sang their newest comeback title song, "But You," giving the retro synthwave song a fresh sound. Fans are awed, especially when Junhoe, known as a main vocalist, raps Bobby's part in "But You," proving how all-rounded iKON is. Jinhwan also showed off his impressive vocal technique.
They are also joined by soloist Moon Sujin. Jinhwan and Sujin did an RnB duet of Ne-Yo's song "Because Of You" while Junhoe and Sujin sang Crush feat. Taeyeon's "Don't Forget." The three vocalists also nailed a cover of BIGBANG's newest release, "Still Life."
Aside from duets, Junhoe and Jinhwan also dished solo covers. Junhoe sang HYUKOH's "Comes and Goes," while Jinhwan chose Taeyeon's "11:11," sharing sentiments of loneliness.