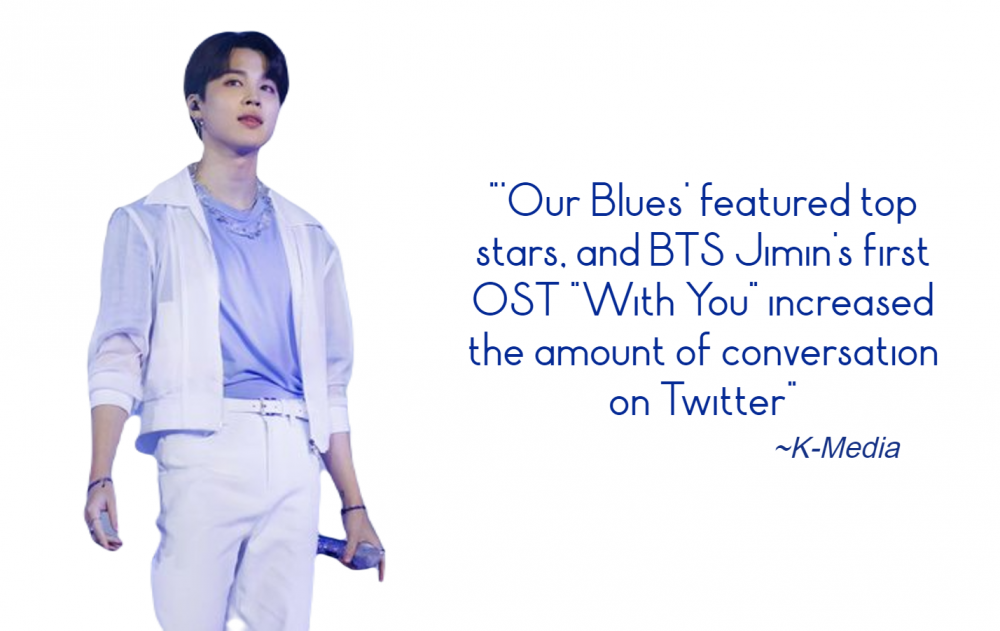 The news of Jimin releasing his first ever OST, which would also be his first ever official project outside of BTS, took the world by storm. By the time of the announcement, all other BTS members had already released individual works, and therefore, anticipation for Jimin's turn was at an all-time high. Fans could not stop talking about it with sheer excitement, and media outlets all around the world reported extensively on this news, saying that Jimin's OST would be one to obsess over [refer here].
After its release, the talk did not slow down either because of the song's high quality and the artists' beautiful voices. In fact, 'With You' made its debut on Billboard's Hot Trending Songs chart at #2 in its first tracking week, which had only four days and 10 hours of tracking. This chart ranks the hottest songs being talked about on Twitter. Thereafter, the song rose to the top spot and held onto the crown for five consecutive weeks. As of now, the song has ranked #1 on this chart for a total of 6 non-consecutive weeks and has been on the chart for 13 weeks overall, never leaving the top 3 spots.
'With You' has also been a hot topic on other social media platforms like Instagram and TikTok, whereby the song's official sound has been used in hundreds of thousands of videos and reels thus far. In fact, on Instagram,'With You' official sound became the most used official sound by a BTS member among the 2022 releases, achieving this in less than two weeks from its release date. As of now, the sound has been used in over 101k videos and reels on Instagram and in over 163k videos on TikTok.
With such high mentions rates on all social media platforms, Jimin became the most mentioned solo artist worldwide for the months of May and June.
On July 26, K-media released a report that further reflected just how big of an impact Jimin had with the release of 'With You.'
The media outlet ranked the Most Popular Drama Series in South Korea in the 2nd quarter of 2022, and 'Our Blues' drama for which Jimin and Sungwoon sang the 'With You' OST, ranked 3rd on this list.
The publication further attributed the high ranking of the drama on this list to 'With You' OST in part, saying that "'Our Blues' featured top stars, and BTS Jimin's first OST 'With You' increased the amount of conversation on Twitter."
It is undeniable that Jimin's involvement in the already star-studded drama as part of the OST team further boosted the drama's popularity, as seen from how hot a topic he and the song have been on social media since its announcement.
Fans' reactions to the news showed how much they respect Jimin and acknowledge his unbeatable impact, praising him for his never-ending list of records and achievements.
Jimin's kind of impact can only be dreamt of by many, and it is for this reason that fans cannot wait for his debut album release to experience the full scale of his power as an artist.