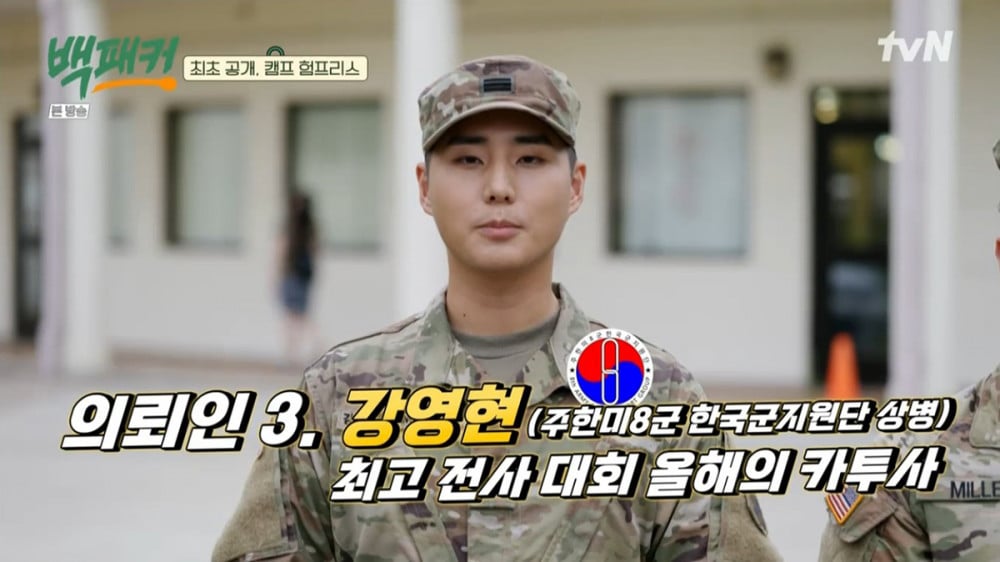 On the July 14 broadcast of tvN's 'The Backpacker Chef', DAY6 member Young K made a surprise appearance and greeted viewers as a representative of the KATUSA (Korean Augmentation to the United States Army)!
On this day, chef Baek Jong Won and the crew of 'The Backpacker Chef' visited Camp Humphreys, home to both the 8th Army of the U.S. Army Forces, as well as to the KATUSA.
On this day, Young K surprised the crew of 'The Backpacker Chef' as this week's "client". Young K shared, "After winning the 'Best Warrior Competition' this year, I was selected as the 'KATUSA solder of the year'." He also added on, "Since I am working closely with many U.S. army soldiers, I wanted to introduce them to Korean food, and so I asked to have 'The Backpacker Chef' come to our base."
Young K then brought chef Baek Jong Won, DinDin, Ahn Bo Hyun, and Oh Dae Hwan on a tour of Camp Humphreys. The 'Backpacker' crew tried out various American franchise spots around the site, and observed, "The food is generally very salty."
Later on, the 'Backpacker' crew took on the difficult mission of preparing 500 servings of food for the soldiers at Camp Humphreys, encountering several roadblocks due to the lack of proper kitchen equipment.