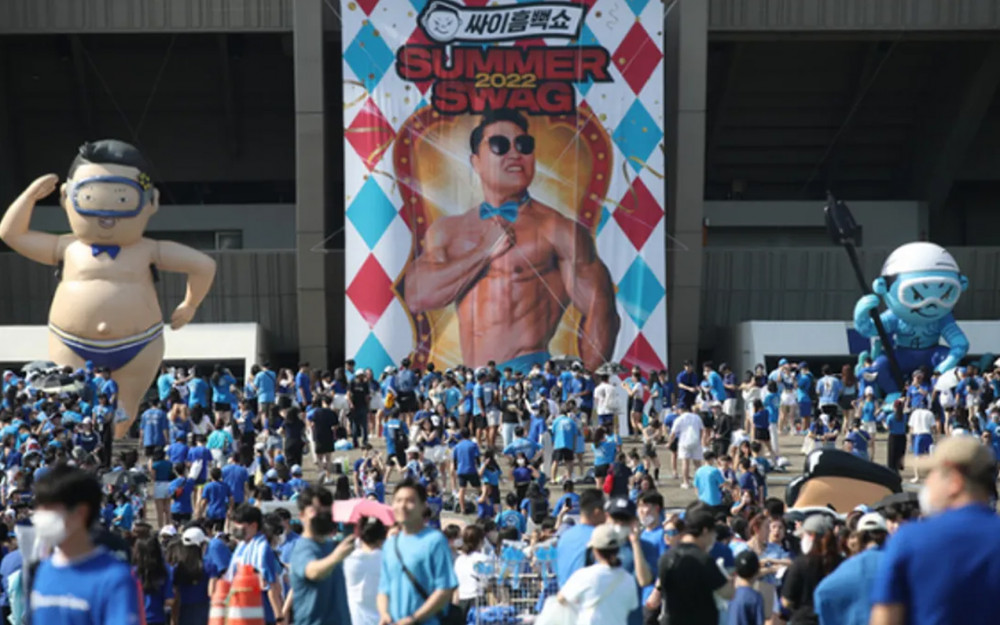 There has been a surge in the pandemic, with the daily number of confirmed COVID-19 cases approaching 100,000 in South Korea. A sizeable number of the positive confirmed cases occurred after the large-scale concert that involved the sprinkling of water. Therefore, the quarantine authorities are on high alert and have started an in-depth investigation.

At a briefing on July 26, Park Young Joon, head of the epidemiological investigation team at the Central Quarantine Countermeasures Headquarters, said, "We are aware of the situation and are investigating in detail."

Park explained, "Currently, it is necessary to investigate what kind of behavior will become a risk factor." He added, "In order to reduce transmission even a little, we are guiding individuals to follow the quarantine and social distancing rules even when they are outdoors."

Currently, Psy's water concert '2022 SUMMER SWAG' is taking place, and it is the first large-scale concert being held in 3-years since the outbreak of the COVID-19 pandemic.

Starting with Incheon on the 9th, Psy held a large-scale performance of '2022 Summer Swag' at the Olympic Main Stadium in Jamsil, Seoul, on the 15th. In particular, a total of 100,000 spectators gathered on the first day of the Seoul performance, followed by 33,000 people per day for the three other days.

Earlier in June, the quarantine authorities asked individuals to refrain from attending water festivals and events. This is because a mask that becomes wet makes it more susceptible to infection.

In order to reduce concerns about the COVID-19 infection, Psy's concert management company announced that the concert would be performed by disinfecting the entire venue before the performance and providing one waterproof mask and three KF94 masks to all audience members. It is also known that the audience is instructed to change masks during the performance.

In fact, when Psy noticed the audience taking off their masks in the middle of the performance, he made a gesture to tell his fans to raise the masks over their noses. However, there have been a series of online community posts where individuals tested positive after they attended the water concert.




As of July 26, there are many individuals who are claiming that they tested positive after attending Psy's concert. One individual wrote, "my nephew went to the Seoul concert last weekend and tested positive for COVID. A lot of young people took off their masks to take photos, and there are more people testing positive for COVID among the people who were there. I'm worried this might spread to the whole country like this."
Another netizen who attended the concert also wrote, "I wore the waterproof mask over my regular mask and kept my mask on. I kept wearing two layers of the mask even when shouting. But still, I got COVID. If you don't want to get COVID just don't go because you can get COVID even if you wear a mask."
Other netizens wrote, "My girlfriend went to the water concert and got COVID. Many people who went seem to get COVID, so I am contemplating if I should cancel my tickets."
Currently, the quarantine authorities are checking to see if Psy's concert would be classified as mass infection and stated, "We're checking with local governments whether there are related cases." Nevertheless, Psy will continue with his summer concert in Suwon, Gangneung, Yeosu, Daegu, and Busan until the 20th of next month.
Netizens are also commenting that the attendees have no one else but themselves to blame since they decided to attend the concert. Netizens commented, "They have no one to blame. They shouldn't say Psy's concert is the issue because then water parks and beaches should be closed too," "It's dangerous to go where a lot of people are gathered. They chose to attend so they shouldn't blame anyone else," "I know COVID-19 and other viruses spread faster in water. It's a real issue when there is water being sprayed," "There was the water bomb show too, so it's not just Psy's concert that's the issue," and "People have no one else to blame because they chose to go themselves."