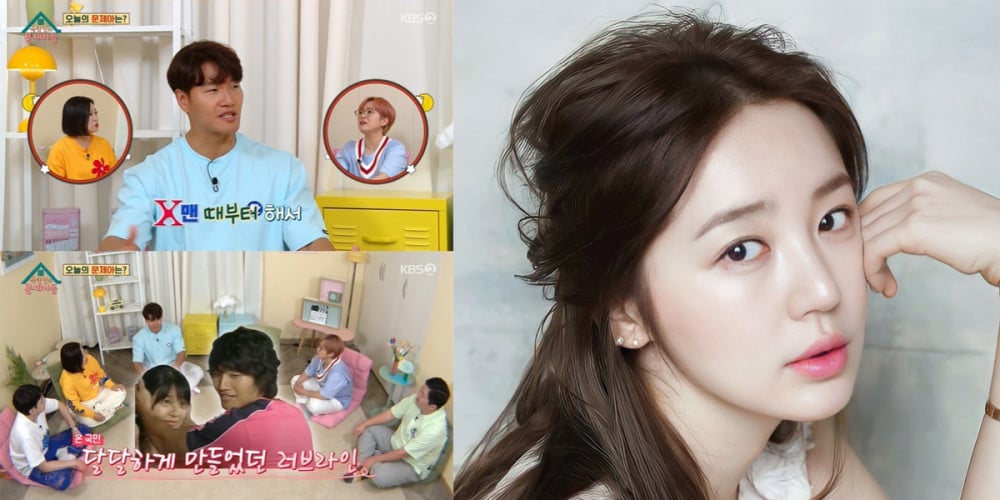 Kim Jong Kook confused his fellow cast members as he continued to address his past dating rumors with Yoon Eun Hye in a roundabout way.
On the June 22 broadcast of KBS2's 'Problem Child In House', while discussing various stars' dating rumors, MC Jung Hyung Don commented, "Two celebrities who are known for having the biggest dating scandals in Korean entertainment are here. The Kim Jong Kook and Yoon Eun Hye scandal, and the Kim Sook and Lee Dae Hyung scandal."
Here, Kim Sook jokingly asked Kim Jong Kook, "So, when is your wedding date? Mine is apparently already scheduled." To this, Kim Jong Kook responded, "Mine has been scheduled since 10 years ago."
Fellow cast member Min Kyung Hoon then asked Kim Jong Kook out of curiosity, "I've always wondered, why don't you ever deny the rumors?" Kim Jong Kook answered, "If I keep on talking about it, then it becomes a big issue. When this topic comes up, I've found that it's best to just be quiet. Just quickly move along to the next topic."
However, Kim Sook disagreed and said, "I stayed quiet about it, and one day, my wedding date that I didn't know about was going around."
Kim Jong Kook then observed, "It comes up again and again, but eventually, it will go away. Or the surest way to get rid of the rumors is if one person gets married." When Jung Hyung Don pointed out, "But it's been 20 years, and neither of you got married."
In the end, Kim Jong Kook couldn't help but remark, "Why didn't [Yoon Eun Hye] get married? She should just get married. Then it will all be over."