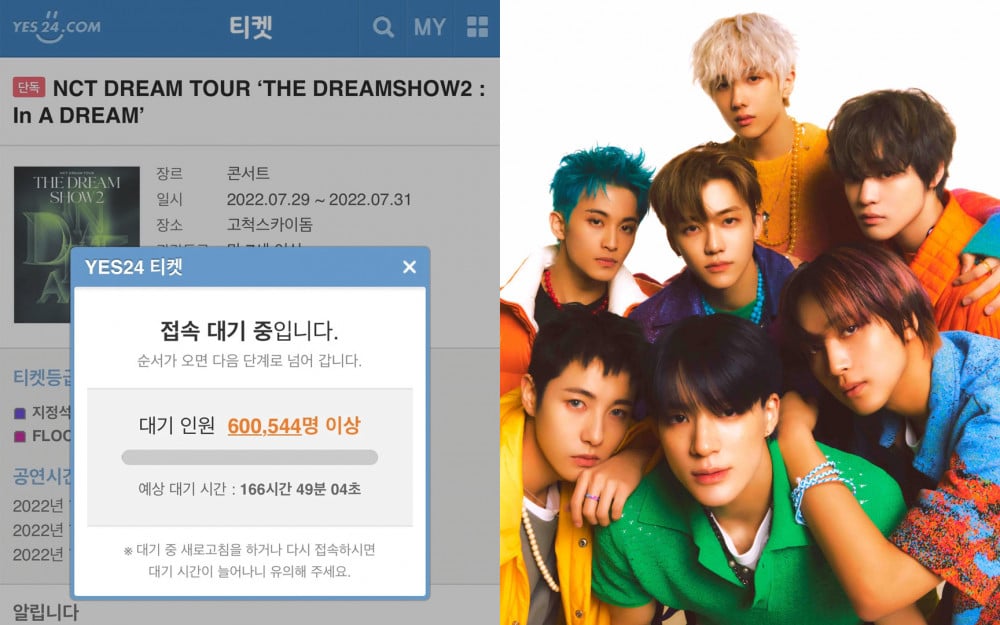 One of the biggest thrills of being a fan is attending the concerts and tours of their favorite artists. Also, ticketing season might be one of the fiercest battles for these fans as they have to fight against numerous other fans to get a ticket. This is particularly so in the K-pop industry.
K-pop fans line up in front of multiple computers to log in to the ticketing site to get their hand on the tickets to the concerts of their favorite idols. As soon as the sales open, fans race to click on the purchase button for a chance to beat out thousands of other fans.
This was the case for NCT Dream as 1.5 million fans logged onto Yes24, a Korean online ticketing site, at the same time to purchase their tickets to NCT Dream's tour 'THE DREAMSHOW2: In A Dream.'
One fan uploaded a screen capture of the ticketing website as she was unable to get tickets. Instead, she was put on the waiting list of 600,544 other people ahead of her who logged in to purchase the tickets.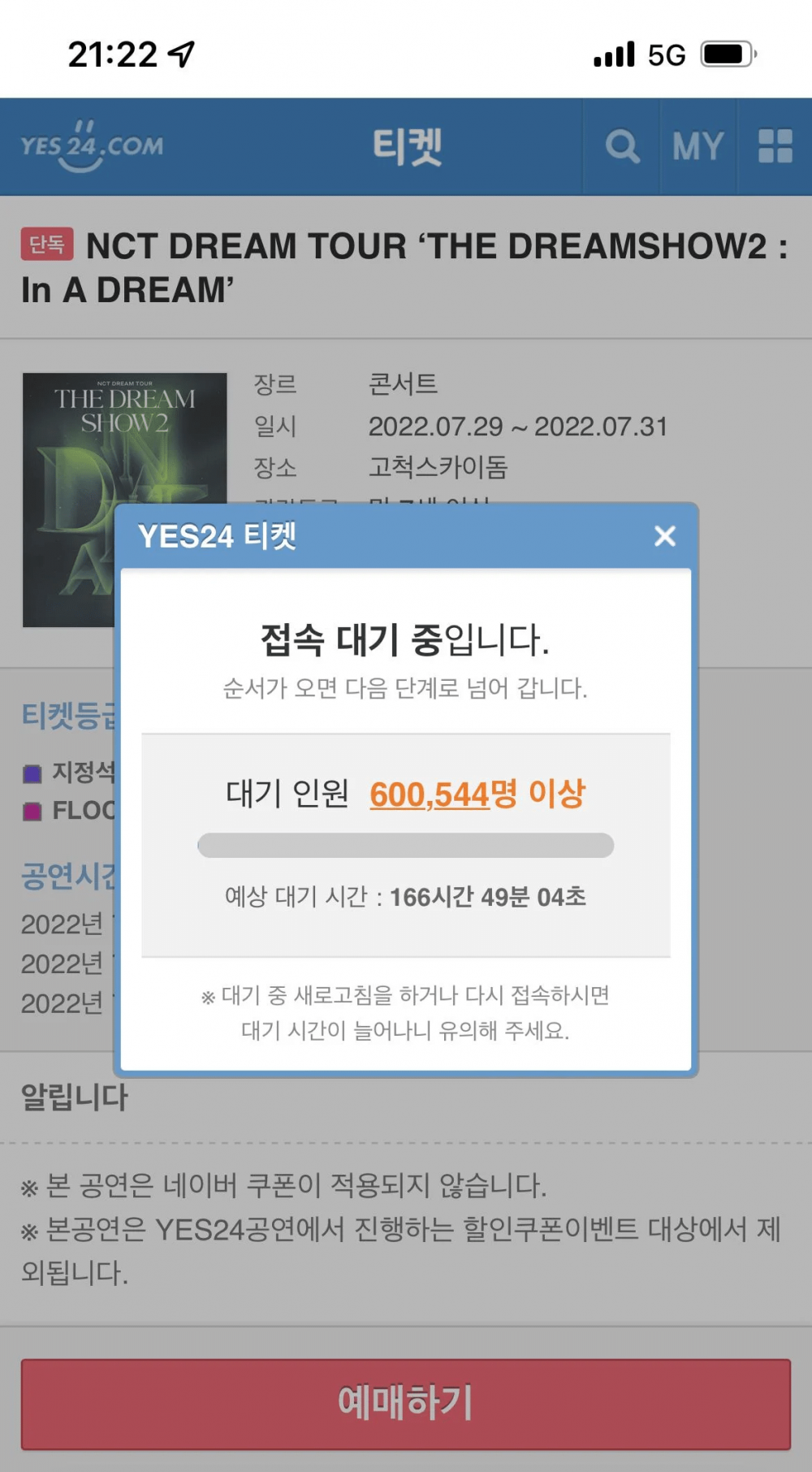 According to the fan, she was already a registered member of NCT Dream's fan club but was put on the waiting list along with regular fans who were not registered in the fan club. Therefore, the waiting list had increased to unimaginable numbers.
Thereafter, the website crashed because so many people tried to log in at once. She explained that a statement was later uploaded explaining that the site had crashed due to 1.5 million people logging in at the same time at 8 PM on June 29.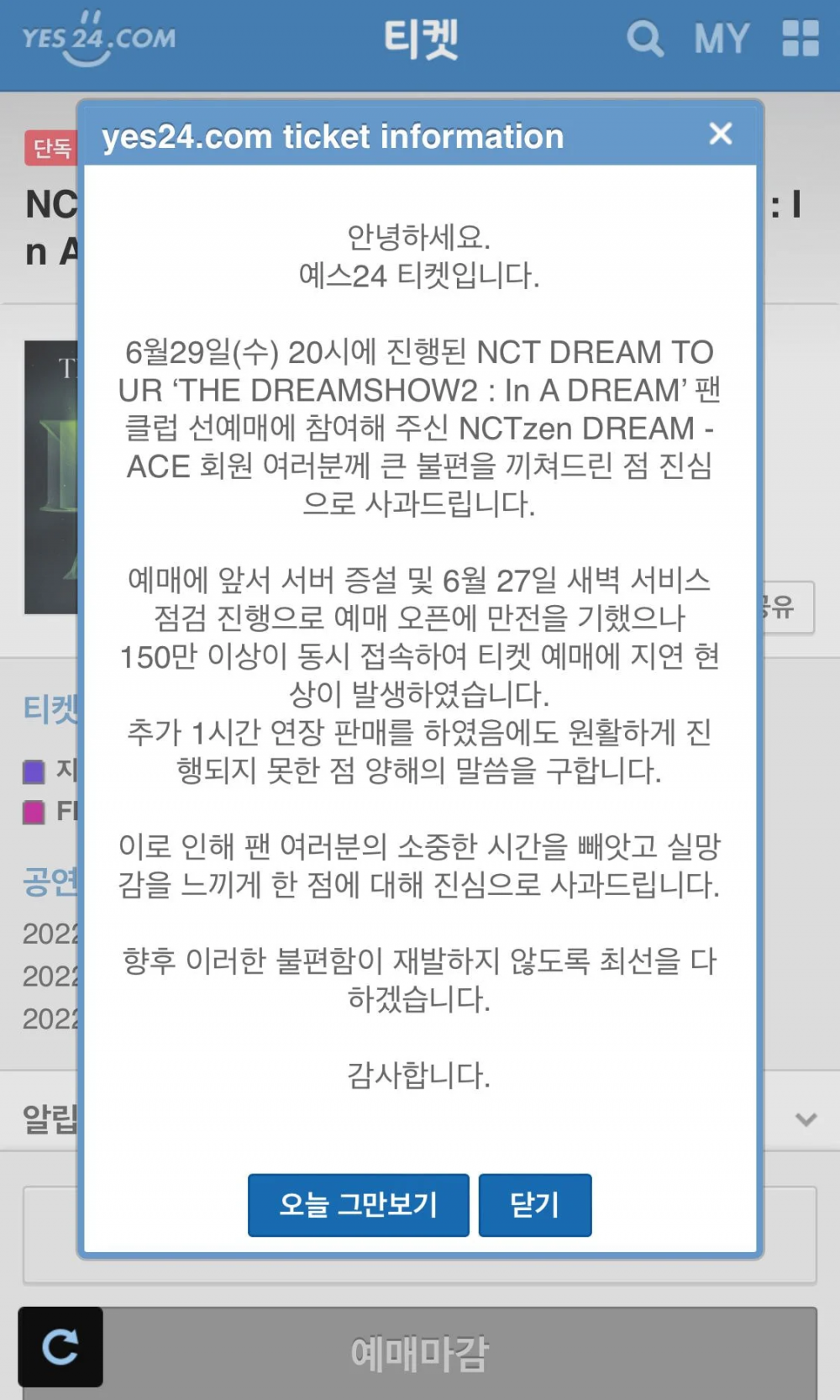 Other fans joined the online community, where the fan uploaded the photos and also shared their experience of trying to get the tickets. Other netizens expressed how shocked they were to see the number of people trying to get the tickets for NCT Dream.
Netizens and fans commented, "When I saw the 600,000 on the waiting list too, I thought I was going to go crazy," "I was so mad too," "I waited for 20 minutes and I was still put on the waiting list," "Wow, that number of people on the waiting list is so crazy," "Wow, 1.5 million people logging on at once is so crazy," "I cursed so much trying to get the ticketing, lol," "Yes24 doesn't know what pre-sales is, they opened pre-sale for Fanclub-registered fans only an hour before, that's why this happened," "This is so crazy," "Why do they say it's pre-sales if they're only going to start sales only an hour before?" and "Wow, look at the wait line, that's so crazy."