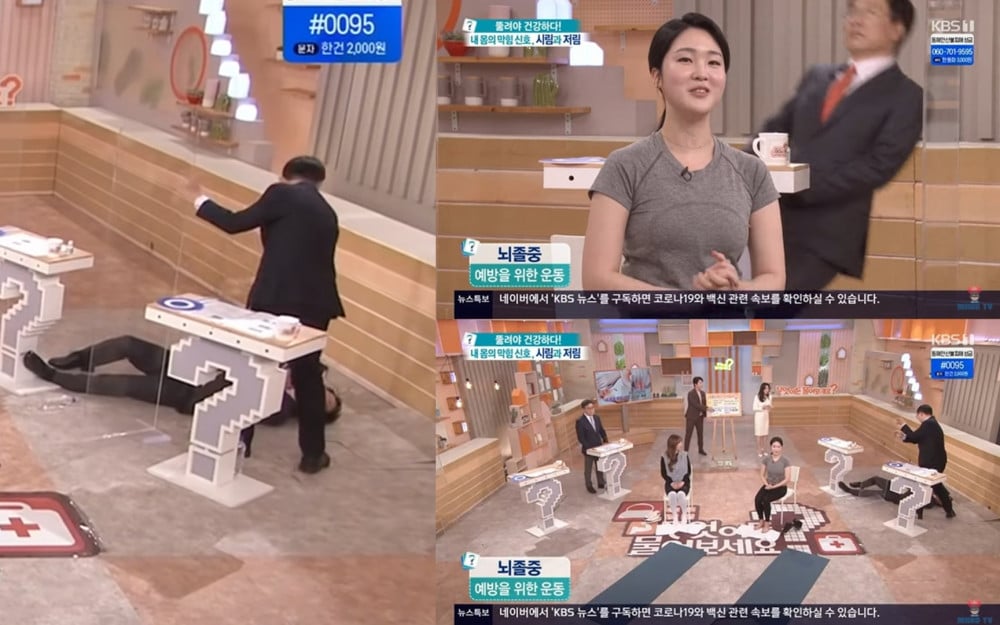 [C/W]
On KBS 1TV's current events and liberal arts program 'Ask Anything,' a medical professional who was introducing stroke prevention or coping methods lost consciousness and collapsed during a live broadcast and was taken to the hospital.

On the morning of March 14th, Kim Hak Seon, a professor of orthopedic surgery at Yonsei Severance Hospital, who appeared on 'Ask Anything,' which was aired on the topic of 'Stroke Signals, Shivers and Numbness', collapsed suddenly while a female trainer was demonstrating stroke prevention exercises.
When Professor Kim collapsed on the floor, and a 'thump' sound was heard, the cast members became bewildered at the sound and were seen all looking at Professor Kim.


At that moment, announcer Kim Seung Hwi asked the staff for help, saying, "An urgent situation occurred during the live broadcast. We will take emergency measures and continue the broadcast." Then the production crew was seen running towards the collapsed Professor Kim.
Announcer Jeong Da Eun then quickly turned the screen, explaining, "There is an emergency at the studio during a live broadcast so we ask for your understanding once again."

According to KBS, Professor Kim regained consciousness in the waiting room of the broadcasting station and was immediately transferred to the hospital emergency room. KBS said, "He is fine now. There are no major health issues."