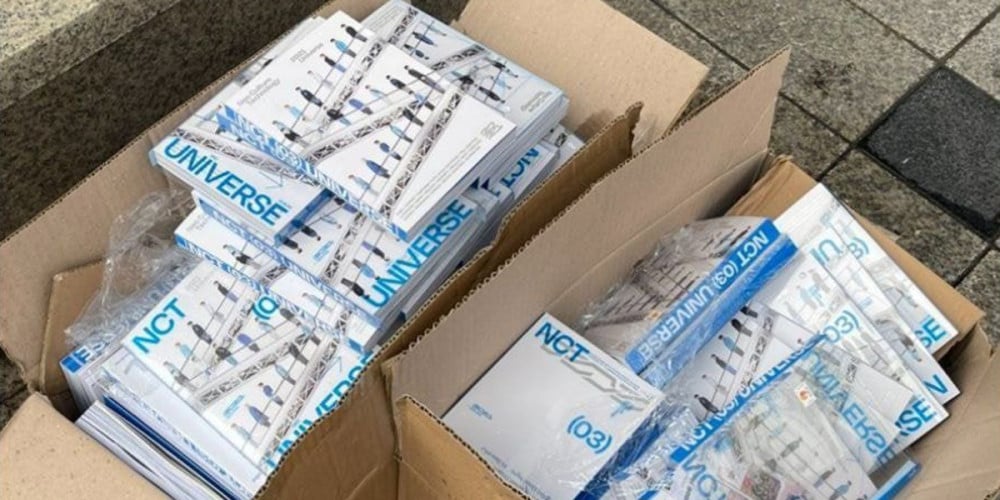 The issue of mass-purchasing K-Pop albums has come to light once again, as one Twitter user expressed their frustration at boxes of NCT 2021's 'Universe' albums left on the side of the road.
On December 15, one Twitter user posed the photo below and wrote, "Whoever left these two boxes of albums as trash after only taking out the photocards on the second floor of Myeongdong's City Record near entrance 6... Come take care of it please. What is anyone supposed to do if you leave your trash here like this?"
The practice of mass-purchasing K-Pop albums is becoming increasingly common. First, fans can justify this practice because it leads to higher album sales records for their artists. Second, many K-Pop groups and their agencies include numerous versions of "unreleased" photocards of each member in their albums these days, so that in order to collect all of the photocards, fans must buy multiple copies to improve their random selection chances.
In the past, K-Pop fans have created a buzz on online communities for leaving boxes of albums as trash in public places like parking lots, inside elevators, in school hallways with a sign reading "Free", and more. Some fan communities have attempted to "donate" the albums to charitable organizations, except that the albums aren't wanted by these charitable organizations.
Seeing the latest occurrence in this continuing problem, netizens commented,
"Please stop doing random photocards. This is too devastating for the environment."
"This is a very serious issue in the entire K-Pop scene. I'm a CTzen, and I'm just embarrassed."
"I know there are a lot of people who should be feeling guilty about this right now. This is such a bad practice."
"I don't understand why these people who do these things don't realize they're being crazy and a nuisance to society."
"We've all known for a while now. Mass-buying K-Pop albums is making too much unnecessary trash."
"If you can't properly dispose of your own trash, don't buy it."
"There has to be a way to sell the photocards separately and have it count toward some of the scores or other data."
"And again, it's the problematic NCTzens."
"We can't resolve this issue if K-Pop agencies don't cooperate."