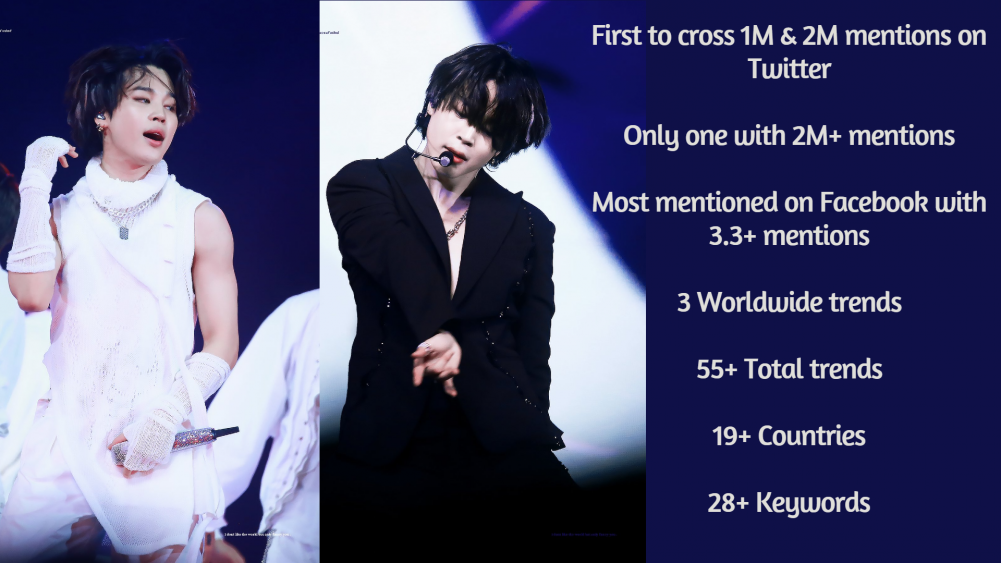 BTS finally held the first day of the much-awaited #PTD_ON_STAGE_LA concert on November 27 in a fully packed SoFi Stadium. Jimin, who has consistently expressed his desire to be on stage once again performing in front of a live audience, could not have been happier that he was living his dream again, and he showed the audience just how much. From his beautiful smiles, sweet words, powerful and yet graceful moves, as well as his honey vocals, he captivated the hearts of fans in and outside of the stadium, leaving them dazzled and having the time of their lives.
In fact, fans noticed how loud the cheers were for him, showing how impactful his stage presence was.
As expected, Jimin took over different social media platforms as fans swooned over everything about him. In effect, despite his name having been muted, he became the first member to surpass 1 million and subsequently 2 million mentions on Twitter and remained the only member to cross 2 million mentions, thereby making him the most mentioned member on Twitter following the concert.

Overall, Jimin trended worldwide with three entries onto the worldwide trends list and also trended in more than 19 other countries, including South Korea and the US. There were a total of over 55 trends with over 28 keywords, including CONCERT KING JIMIN, HONEY VOCALS JIMIN, and STAGE COMMANDER JIMIN, among others.
On Facebook, there were 4 Jimin-related keywords that surpassed 250k mentions, and his name JIMIN amassed over 3.3 million mentions on the platform, which also made him the most mentioned member on Facebook after the concert.

Here are a few of fan reactions to Jimin on stage all through the concert, regarding his vocals, dance, and visuals, some praising him for his pitch stability despite having been moving so fast doing the choreography, others finding it hard to believe that he actually exists due to his ethereal beauty, and others simply at a loss for words for his jaw-dropping moves.
Jimin also received praises from various celebrities who attended the concert, with multiple verified accounts posting about him. Notably, some of the celebrities like Tetris and Lizzo are known to be Jimin-biased, and Lizzo particularly posted a video of her screaming when Jimin came onto the screen. Tetris bought a Jimin-fan, which has become a trending topic in the hot category on theqoo, and a popular American YouTuber dressed up in Jimin's 'Dynamite' outfit. Jimin had a lot of support and cheers for the concert.
Since the ending of the concert, several videos of Jimin have been posted on Tiktok by fans, and some have gone viral, having accumulated over 1 million views already and hundreds of thousands of likes.
Fans are charged up and eagerly looking forward to Day 2 of the concert to have the exhilarating experience of seeing Jimin on stage again.