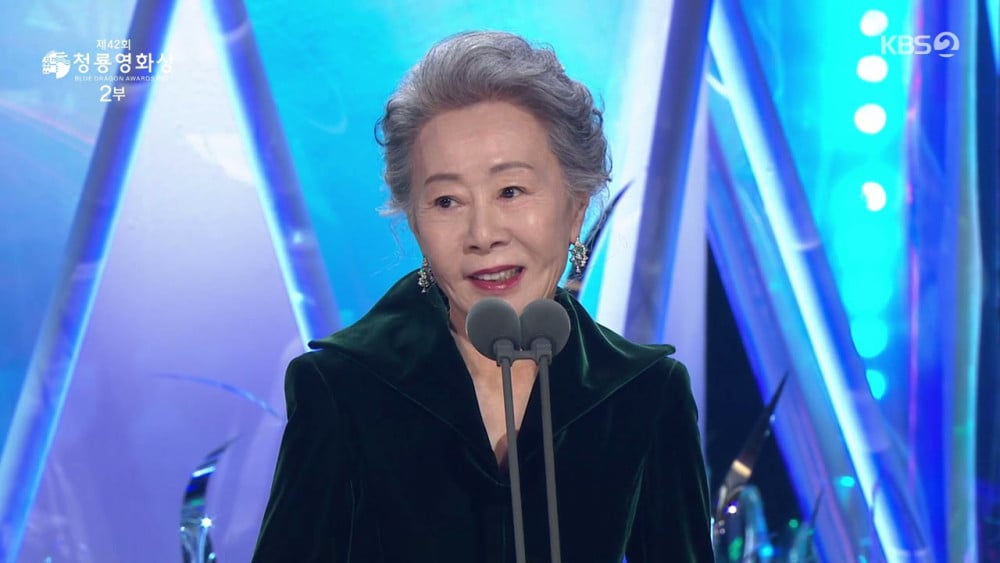 Actress Youn Yuh Jung received a standing ovation at the 42nd 'Blue Dragon Film Awards'.

On November 26th, the 42nd 'Blue Dragon Film Awards' took place at the KBS Hall in Yeoido, Seoul. Youn Yuh Jung appeared at the beginning of the latter half of the awards show, receiving a round of applaud from her junior actors and actresses.
The actress introduced herself as 'an old actress Youn Yuh Jung' and continued with her opening speech. In her speech, she said, "I've now reached an age where I have more things to look back upon than to look forward to. Lately, during the interview with 'the Guardian', the interviewer asked what is the reason behind the continued international success of Korean entertainment content from 'Parasite' to 'Squid Game'."
She continued, "I replied that we've always had good films and dramas. But it's only now that the world has started to pay attention to our culture. Now, you would have to support my claim. My only wish is for you to continue creating good content and sharing stories with people around the world."
She wrapped up her speech with her usual witty remarks, "I came out to show my gratitude. Thank you for all your support. I remember seeing a placard saying 'Proud to be Youn Yuh Jung's neighborhood' in my neighborhood and that really touched me on my way home from the Academy Awards. It made me think I've finally come home to my own country. I was having a hard time speaking broken English and I'm glad that I can speak in Korean. Thank you also to King Sejong for inventing Hangul."