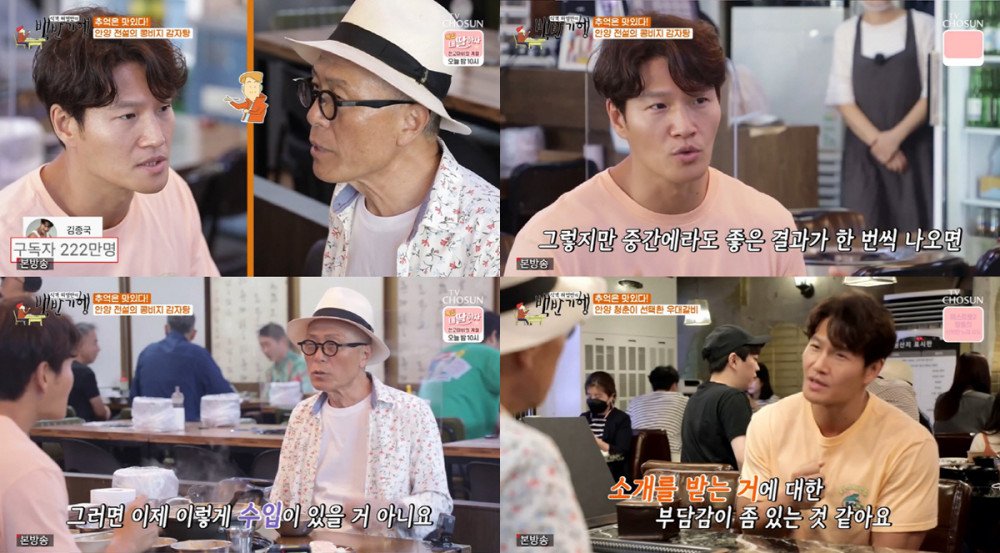 On October 8, singer Kim Jong Kook appeared as a guest on the TV Chosun program, 'Heo Young Man's Food Travel'.
While sharing meals with Heo Young Man, one of Korea's representative manhwa artists, Kim Jong Kook talked about his YouTube activities, marriage, and more.
First, regarding his recent YouTube channel earnings, Kim Jong Kook revealed, "I ended up earning much more than I thought I would, and so I decided to donate the earnings from the first few videos. After that, I felt more at ease. I think if more people continue to enjoy the videos, I can also donate more diligently."
Next, Heo Young Man moved on to the topic of marriage. He said, "You probably have a lot of people inviting you to meet female acquaintances." Kim Jong Kook replied, "I feel too pressured about having people introduce me to others. I find it more comfortable when I meet the other person naturally, but since I have my age to consider now, I am being more cautious."
Heo Young Man then remarked, "Lee Sang Min told me that he has some assets stored away for future use." Kim Jong Kook responded, "I have been talking to a lot of friends around me the past couple years, ones who aren't too sure about the near future, trying to get them to all go with me so we can freeze our sperm. I am seriously considering it."