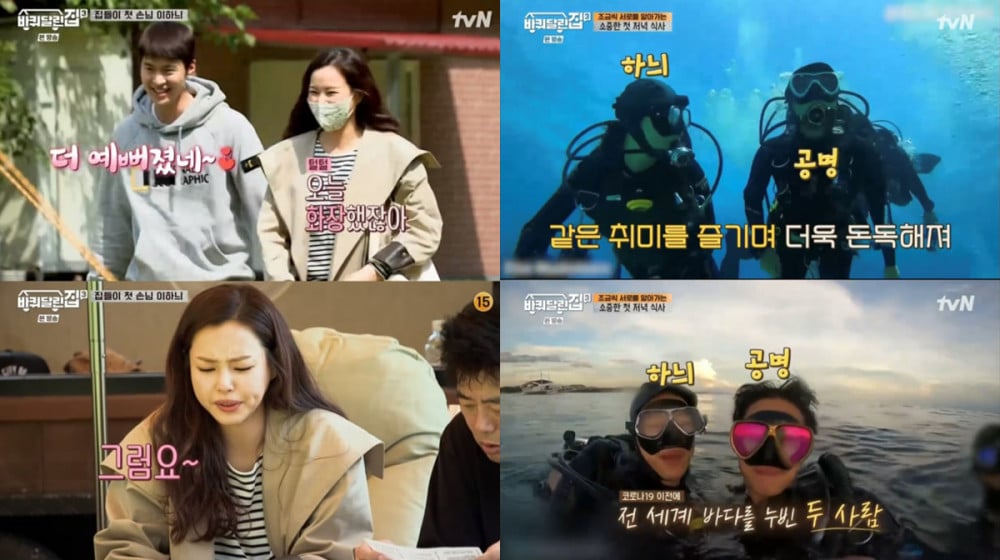 On October 14, tvN's 'House on Wheels' returned to greet viewers with its 3rd season, starring Sung Dong Il, Kim Hee Won, and the new maknae, Gong Myung.
Also joining the cast members as the first guest of season 3, actress Honey Lee appeared on this episode after being invited by Gong Myung. She immediately won over the hearts of both Sung Dong Il and Kim Hee Won as soon as she arrived with her bright and friendly character.
Honey Lee and Gong Myung, who previously worked together for the 2019 film 'Extreme Job', revealed that they were extremely good friends who went on diving trips together. Honey Lee complimented her hoobae affectionately, saying, "Gong Myung enjoys camping and diving. He is athletic because he used to do taekwondo and play soccer."
When the stars sat down for dinner, the cast members were surprised by Gong Myung's big appetite. Honey Lee remarked, seeing their reactions, "He is nice to eat together with because he eats so well. When we go on trips, he never leaves food unfinished."
here, Kim Hee Won asked, "You two went on trips together?", to which Honey Lee replied, "We go on diving trips often. We've been to Palau, the Philippines, and of course Jeju. Once you get into diving, there's no end." The actress also expressed her love for diving by commenting, "In the deep quiet, I feel like I am meditating. It's rare to come across places that are untouched by civilization. It gives me the chance to visit one of the few places in the world where humans have not done irreparable damage."