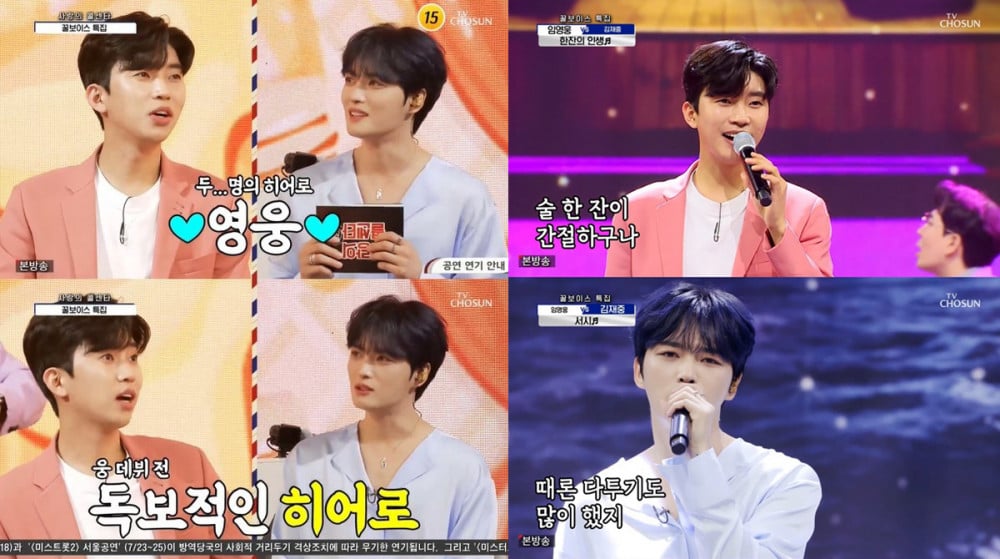 On the July 15 broadcast of TV Chosun's 'Romantic Call Center', singer/actor Jaejoong appeared as a guest alongside Ha Sung Woon, Jung Yeop, Lee Ki Chan, Seo Ji Suk, and Lim Kang Sung!
'Romantic Call Center', starring the top 6 members of the beloved TV Chosun audition program 'Mr. Trot', invites vocalists from all genres and professions to compete and collaborate with the top 6 trot singers in exciting vocal performances each week. This week, 6 male vocalists decided to form their own team and challenge the top 6 trot singers to a vocal battle.
Because it's so rare to see Jaejoong appearing on a TV variety program, all of the top 6 trot singers welcomed him with excitement. First, Jaejoong revealed that his mother was a huge fan of top 6 singer Lee Chan Won, and received the gift of an autograph for his mother from Lee Chan Won himself.
Next, Jaejoong also mentioned, "I wanted to see Lim Young Woong as well. In truth... you know, I am also a 'Hero'." Hearing this, Lim Young Woong also admitted, "For a long time, there was only one top celebrity with the name 'Hero'. That was 'Hero Jaejoong'!". (Many of you will remember that during his TVXQ days, Jaejoong was known as 'Hero Jaejoong' or 'YoungWoongJaeJoong'. Lim Young Woong's given name also literal means 'Hero'.)
Greeting each other as fellow "heroes", Jaejoong and Lim Young Woong joked, "Lim Young Woong Jae Joong. It's one name." While chatting with Jaejoong, Lim Young Woong also remarked, "I shouldn't get too close. He is too handsome." However, soon, the two "heroes" were pitted against each other in a vocal performance battle.
[SPOILERS AHEAD]
First, Lim Young Woong sang "A Cup of Life" by Lee Kyung, delivering a classic trot performance that had everyone dancing. Next, Jaejoong chose to sing "Prologue" by Shin Sung Woo, impressing listeners with his signature, rock ballad style.
In the end, Lim Young Woong scored a 98 on the karaoke machine, while Jaejoong scored a perfect 100! Make sure to check out the two stars' performances above! For more stages from TV Chosun's 'Romantic Call Center', you can visit the channel's official YouTube channel.