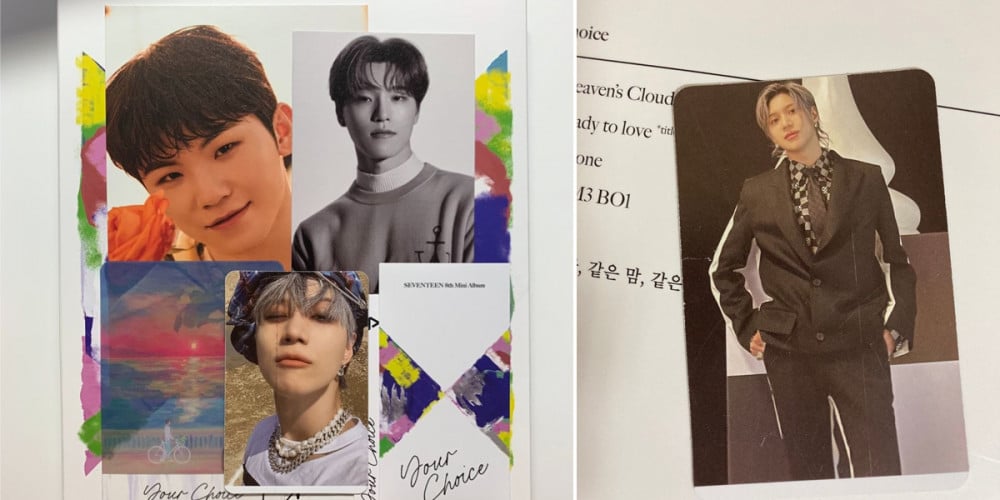 It looks like some fans have pulled some extremely rare(?), Taemin photocards from Seventeen's newly released 8th mini album, 'Your Choice'!

Shortly after fans began receiving their copies of Seventeen's comeback album 'Your Choice' in the mail, a handful of Japanese Carats took to Twitter to reveal that they've pulled photocards of SHINee member Taemin!
Close-observers pointed out that based on Taemin's outfits, as well as the sliver of white at the bottom of each of the photocards, these were likely a batch of misprints from Taemin's 3rd full album 'Advice', released back in May. And because both Taemin's 'Advice' album and Seventeen's 'Your Choice' album were produced by the same distributor, a bit of a mishap seems to have happened!
Many fans, both Carats and SHINee Worlds, were happy to see Taemin making a surprise featuring(?) in Seventeen's 'Your Choice'. Some felt that this little incident was a great excuse to force Taemin to return from the military right away, so that he wouldn't be "missing" any of Seventeen's comeback promotions (as the 14th member of Seventeen, of course!)
Did any of you pull a Taemin photocard from your copy of Seventeen's 'Your Choice' ?!