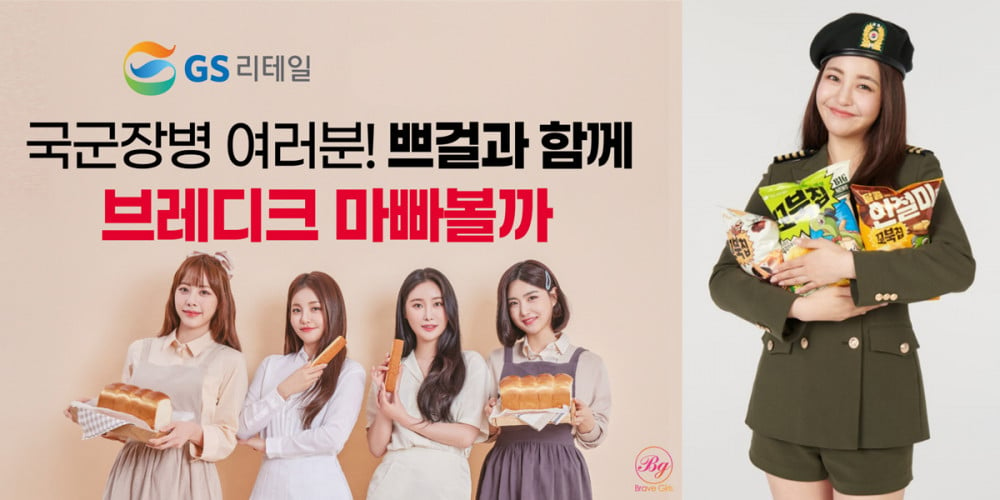 Brave Girls have decided to partner up with some of the retail brands they're endorsing, in order to pay back some of their most loyal fans - the soldiers of the Korean military!
First, on May 4, convenience store brand 'GS Retail' confirmed that they've partnered up with Brave Girls, currently active as the endorsement models for 'Breadique' bread. A total of 2,000 'Breadique' snacks were sent to the ROK army's capital artillery brigade bases.
Then, on May 5, Brave Girls confirmed that they've also partnered up with 'Turtle Chips', which member Yujeong is currently endorsing, sending 4,000 bags of 'Turtle Chips' as well as 2,000 bottles of Orion's 'Dr. You Jeju Water' to army bases across the country.
According to Brave Entertainment, "We planned this event in order to thank the military soldiers, who showed such enthusiasm during Brave Girls's performances. The retail brands that Brave Girls are endorsing openly agreed to the event, and so we were able to carry out the plans."
Meanwhile, Brave Girls are currently gearing up for their summer comeback!