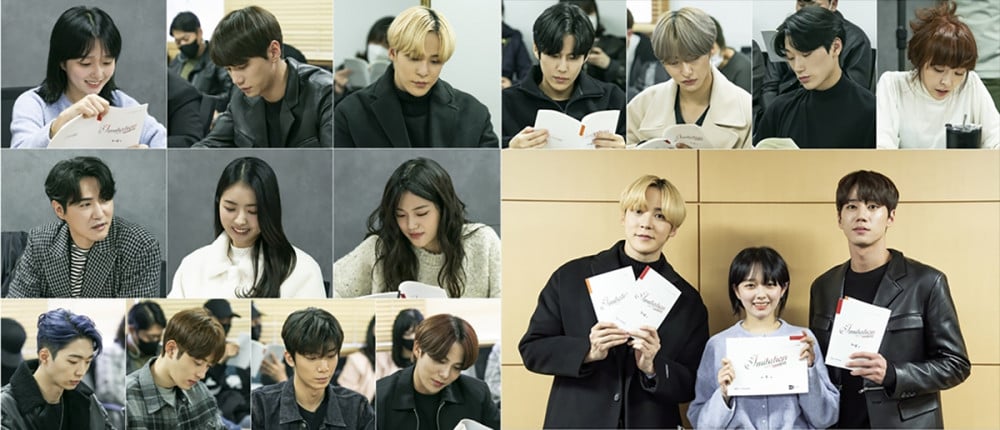 KBS2's upcoming new variety-drama series 'Imitation' has revealed still cuts from the cast and crew's first official script reading!
Based off of a popular webtoon of the same name, 'Imitation' is a web drama which reimagines the world of K-Pop idols into a romantic love story! As a result, KBS has cast a number of currently promoting and former idols as cast members, including U-KISS's Jun, ATEEZ's Yunho, Lim Na Young, SF9's Hwiyoung, ATEEZ's Jongho, ATEEZ's Seonghwa, ATEEZ's San, and more!
First, idol-turned-actor U-KISS's Jun returns to the small-screen as the visual center member of the top K-Pop boy group SHAX, named Kwon Ryuk. He'll be working with fellow SHAX members Yuri, Ahn Jung Hoon, Hwiyoung, and Jongho. Opposite Jun, actress Jung Ji So takes on the role of a sweet girl group center member, Ma Ha. Her idol group T-Party is a trio, made up of Hyun Ji (Lim Na Young) and Lia (Minseo).
ATEEZ's Yunho, taking on his first ever leading role in a drama series, will be greeting viewers as the cute and sweet Yoo Jin, the center of a charming boy group known as Sparkling. The other Sparkling members including Suwoong, Seonghwa, and San.
Meanwhile, KBS2's 'Imitation' is expected to air later this spring, beginning on May 7!