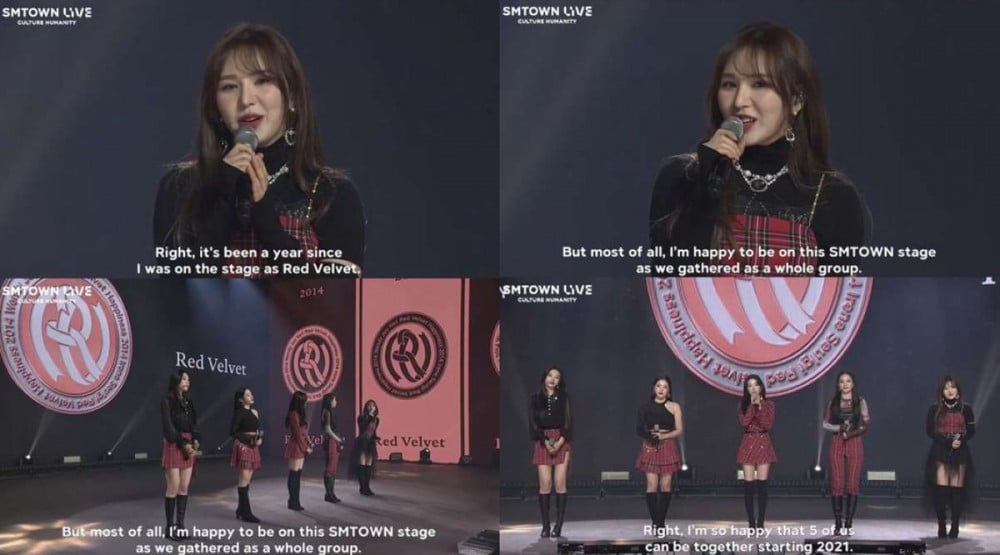 Red Velvet have returned to the stage complete as 5-members for the first time in over a year!
On January 1, SM Entertainment artists rang in the new year with the first ever 'SMTOWN LIVE: Culture Humanity' online concert, airing worldwide via YouTube. The girls of Red Velvet were one of the first acts up to open the show by performing "Bad Boy" and "Peekaboo" as 5-members! This stage also marked Wendy's official return to the stage after her injury from December of 2019.
After their opening performance, the Red Velvet ladies also greeted fans briefly as a group again for the first time in a while. Wendy gave her thoughts on being back on stage by saying, "It's been a year since I was on stage as Red Velvet, and I am both very nervous and very excited. But most of all, I'm happy to be on this SMTOWN stage we we gathered as a whole group." The members all agreed and added on, "We are also happy that we can be together as 5-members to begin 2021."
Welcome back, Wendy!