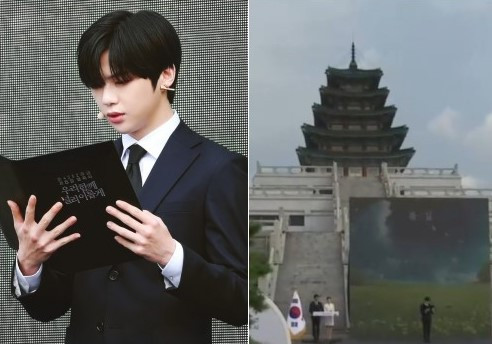 On October 3, South Korea celebrated its 4352nd National Foundation Day, also known as Gaecheonjeol ("Festival of the Opening of Heaven"), a holiday which celebrates the founding of Korea in 2333 BCE. This year's celebration took place at Gyeongbokgung Palace in Seoul and was televised nationwide. The attendees consisted of Korea's Prime Minister, several Ministers, and more than 30 key national figures and the event was MC-ed by actor couple Jin Tae Hyun and Park Si Eun.
Kang Daniel made a special appearance as the only celebrity singer invited.

Under the theme of "A Poem to Ordinary Heroes", Kang Daniel recited Jeong Ho-seung's poem, "A Spring Road", to honor the ordinary neighborhood heroes practicing the spirit of the original founding philosophy, Hongik Ingan ("Devotion to Human Welfare"). The Korea Times has a full translation of the poem, which is about not losing hope despite experiencing difficult times. The poem recitation gave support, encouragement, and consolation to all the people burned out in their daily lives due to COVID-19.
Kang Daniel had an exclusive interview following the event. He shared, "It was an honor and the first time I participated in such a ceremony and recited a poem in front of people who practice humanitarian love in the neighborhood. The theme and content of the poem are incredibly similar to my usual perspective, so I tried to reach out to the listeners even more but apologize if it was lacking. It was once again a great honor. I hope everyone has a healthy and enjoyable Chuseok holiday."
His appearance trended in online portals and #1 on Twitter in Korea.
Earlier this year, Kang Daniel donated money to Hope Bridge Disaster Relief to be used to purchase goods such as health masks and hand sanitizers. In April, Kang Daniel and his fans were the first to be honored with hearing loss charity The Snail of Love's Soul-The Fan No.1 title for exceeding 99 million won in donations. In recent news, he was selected to endorse Icepray, a cure-cosmetic and social movement brand, due to his good influence.