After the controversy in which Irene was involve, a lot of people who work in the industry came forward by posting messages on their official account to defend Irene, and prove to people that she's not an evil person.
Just a human who is more sensitive sometimes
" "Hello
I am hair stylist Yoon Seoha who's worked with RV as a hair staff since 2015. As I've been with the members for a long time, I don't think was a time we didn't treat each other with sincerity working together. For that long time we've/I've (?) worked with loyalty and thankfulness and thanks to that, I feel that I've grown a lot myself. Irene was someone who gave me a lot of trust as a team leader and made me feel proud to be Red Velvet's hairstylist. The Irene that I've seen for a long time was someone who gives accuracy and trust to people in every work. If I had faced any unfairness working with this person I've worked with for so long that I've seen even more than my own family, I am someone who would've already quit.The RV staff that have worked with them for several years would know. That because Irene and the members helped the staff and members create a relationship where beyond work, we were able to be a source of strength for each other and to depend on each other. Irene you were always someone, a dongseng, an artist who gave me strength. I always say this but

Thank you always!"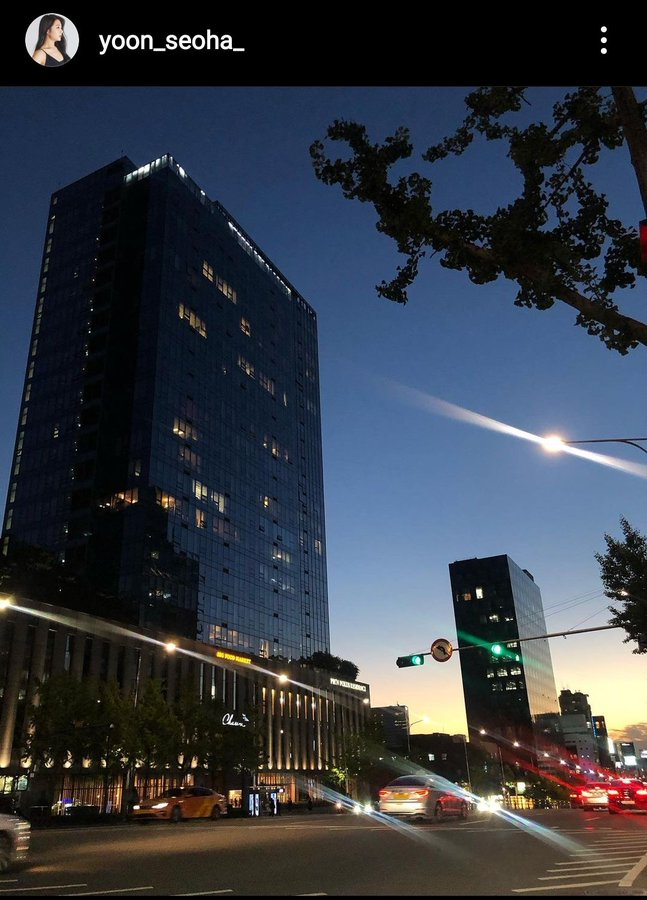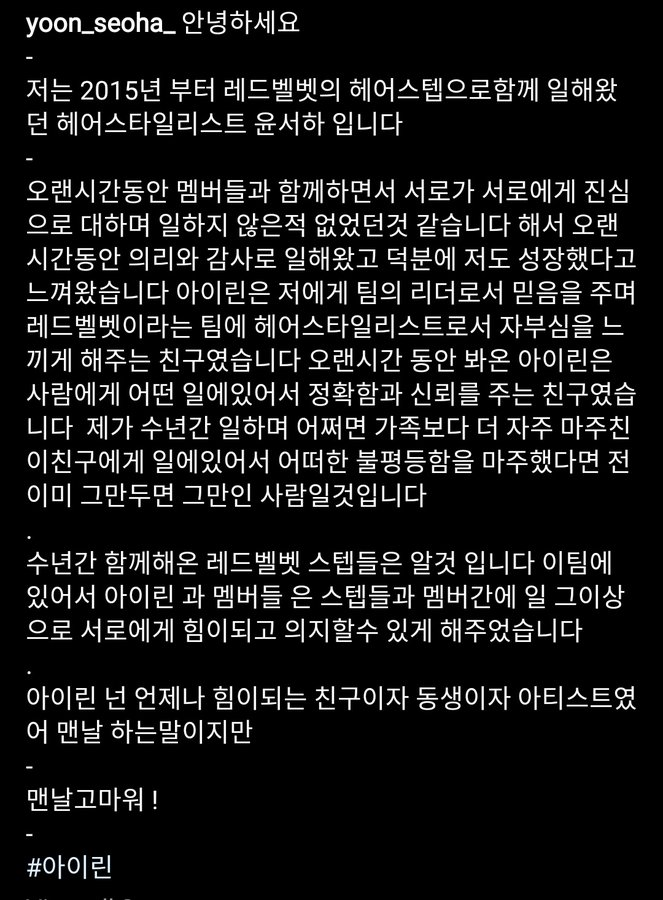 "The things I'd worked so hard on for the last 5 years are disappearing like bubbles... I keep thinking of the good memories so my heart hurts so much...
We spent more time together than anyone else...
If you can judge a person by one interaction, I think you are living in a world far too difficult. If you look at a person with pre-composed biases, how can you make any clear judgements from those biases...I think that there is something that cannot just be expressed in words, that cannot be made in a short time - of knowing each other's thoughts without even saying a word, just by looking at each other's eyes.
Revelies I love you "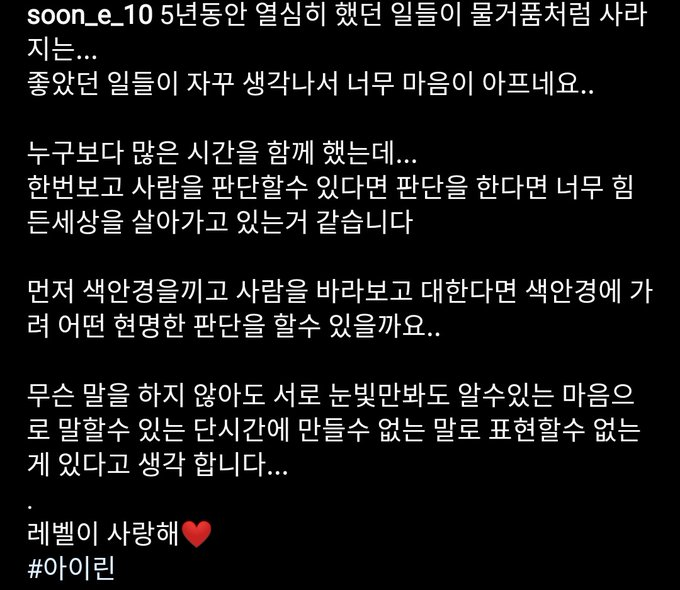 "Hello. I am Choi Sunhee who's taken care of Red Velvet's choreography directing for 5 years. I am posting this because it seems like too many big misunderstandings about Joohyun (Irene) are piling up.The Joohyunie I know is a caring smartie who has a strong energy towards her work and very detailed, and is overflowing with cuteness. Of course, since it's a place where many people are together and working, there are times when there are conflicts in opinions. But on days like that, she is a affectionate, pretty person that always sends a text first and negotiates the opinions, and relays her thanks and well wishes.

(At those times I get more strength to work harder.)
I hope there aren't any big misunderstandings about Joohyunie."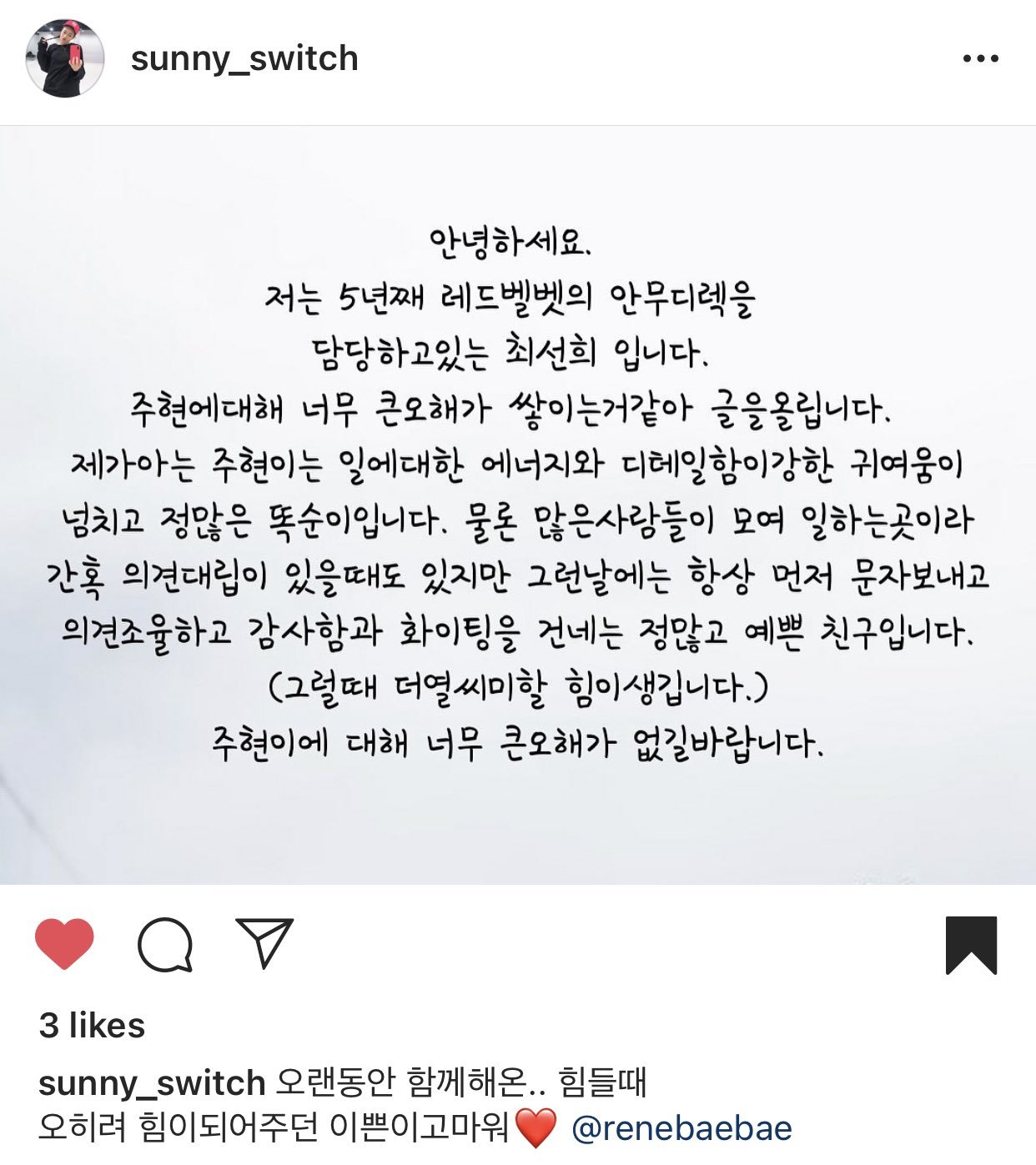 "Since yesterday, there's been many people asking me about Irene. I think it's because I had worked in 'Double Patty' (though I left in the middle).
Honestly I don't know Irene very well. We worked together but over the span of a little over a month. we've met only a few times working. To organize my personal opinions since many asked, I think there's a lot more problems in the entertainment side rather than problems with Irene personally.This may be dangerous to say but, when I met many idols at MV filmings, when I saw how the entertainment side staff were, not the filming staff, I could easily understand why those idols are like that (....) Because Irene has never done any 'bossing around' to me, I can't answer questions of 'Is Irene bitchy? Is her personality shitty?' I can only say 'she wasn't like that to me...'
I hope that there won't be any words that can be personally hurtful."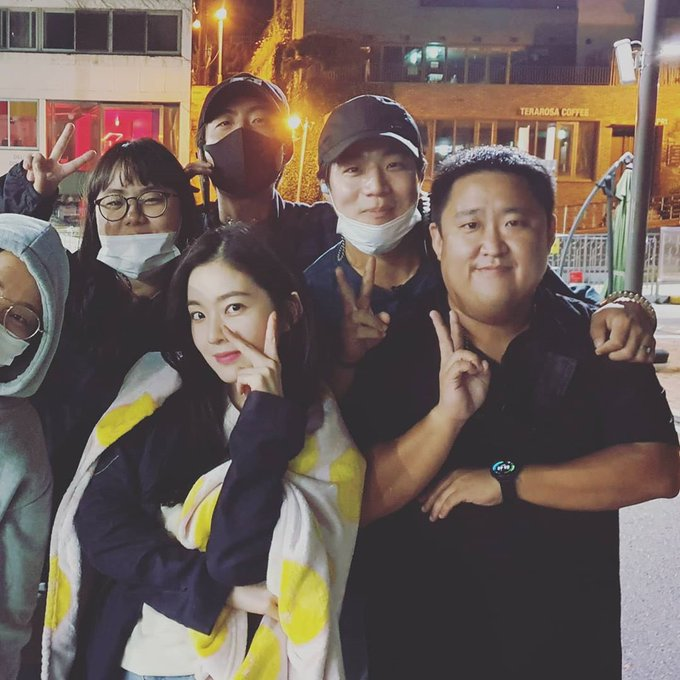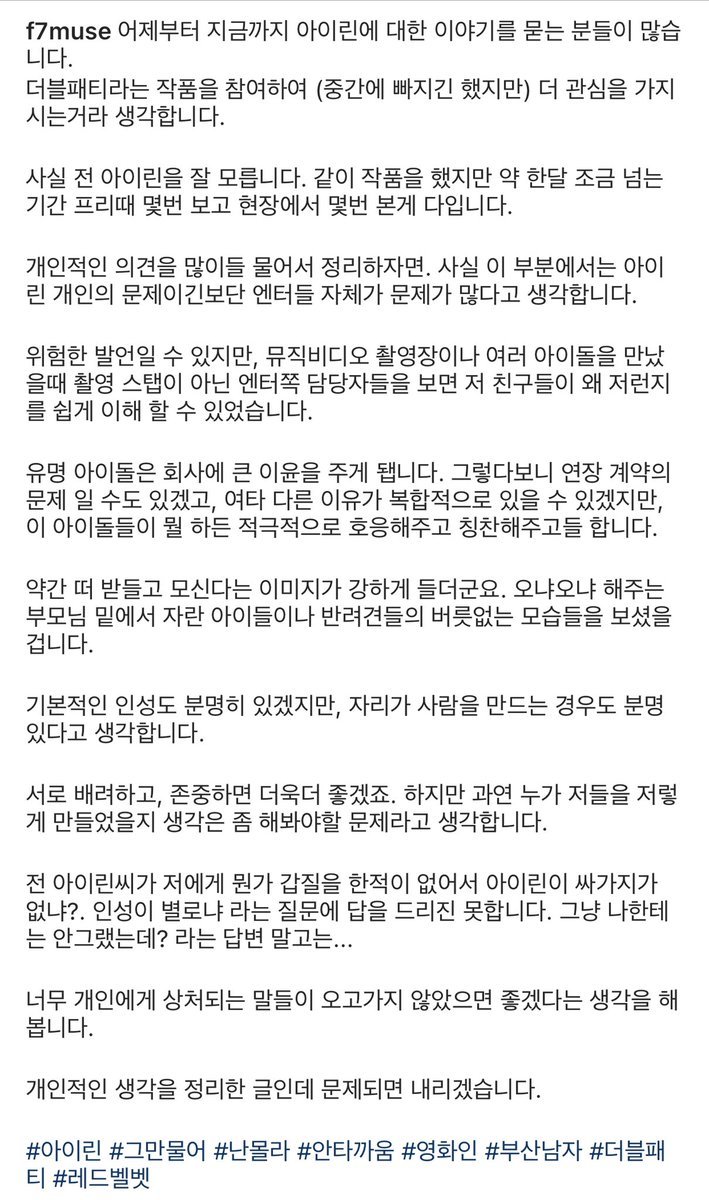 "Ppl are asking if anything had happened at the salon (at Soonsoo)... Obviously if you go to a salon for a long time everything is revealed in words~ But Irene's a celebrity with a lot of good words around her~ During the year-end season, she writes a handwritten letter for all her staff 7 even for the youngest staffs she takes care of vitamin gifts~ She's a celebrity that knows how to show her thanks~
I know gifts aren't everything but because she just usually had a good personality, all the salon's hair and makeup staff like Irene a lot~ Because she's a celebrity with more good sides to her, this situation is saddening~rene... It's correct that she is the good person that fans know her as~
Even with these few words I wanted to be a small source of strength for Irene..."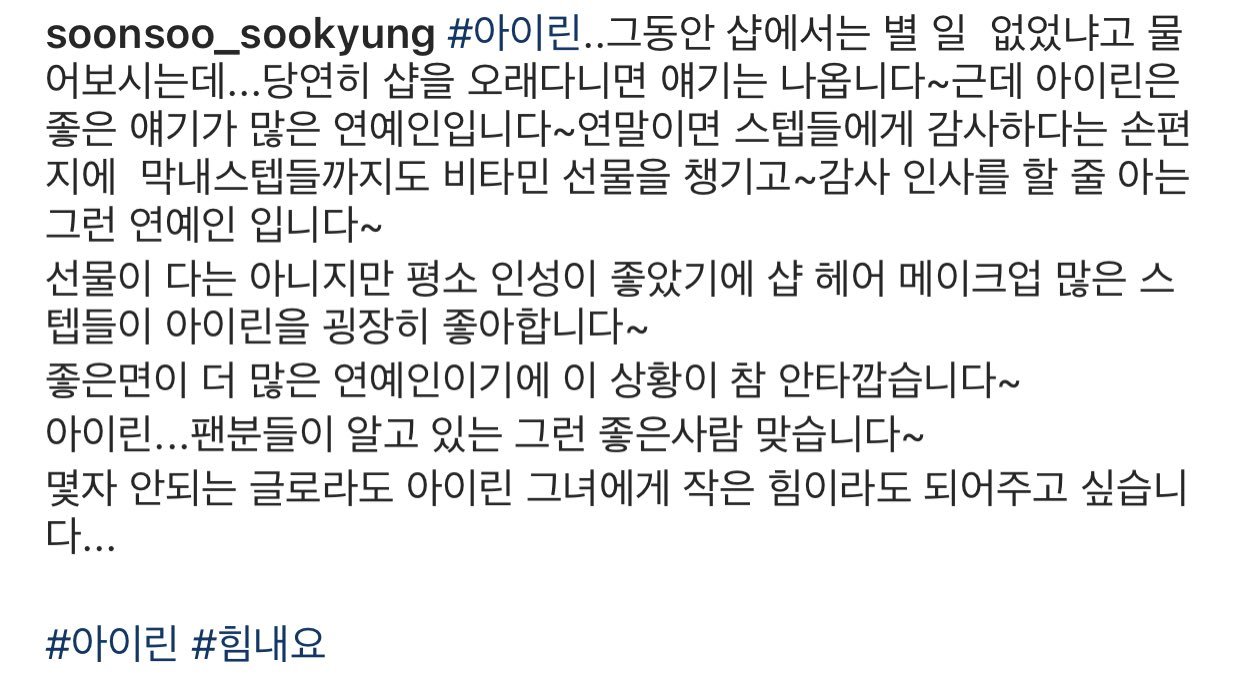 " "Already 5 years since I've worked with unnie.
From album prep, broadcasts, to concerts
I think we've been always together without a break.

A detailed/observant person who would take care of dancers first every promo even when she acted like she didn't mind. How many artists would there be who would write a handwritten letter for each dancer?"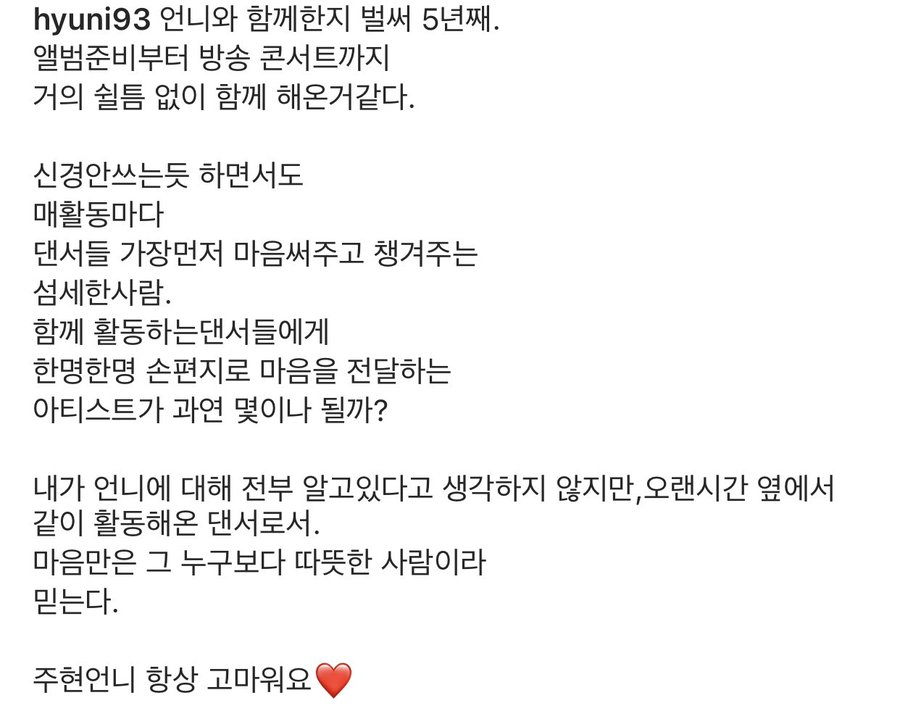 This are just few of people who came to the defense of Irene but more and more people are coming forward to show that Irene is far from the person this stylist try to show