On May 21, 2017, BTS was nominated forTOP Social Artist Award at the Billboard Music Awards, an award Justin Bieber dominated for 6 consecutive years. Travelling from South Korea to Las Vegas, BTS set to embark on a journey a few kpop artists have experienced!
BTS graced the Magenta Carpet in tailor-sharp suits and dashing looks. Armys (BTS fans) and locals (non fans, casual viewers) where curious as to who are these 7 fine young men. One especially caught their attention, trending in real time #thethirdonefromtheleft
https://twitter.com/hashtag/th...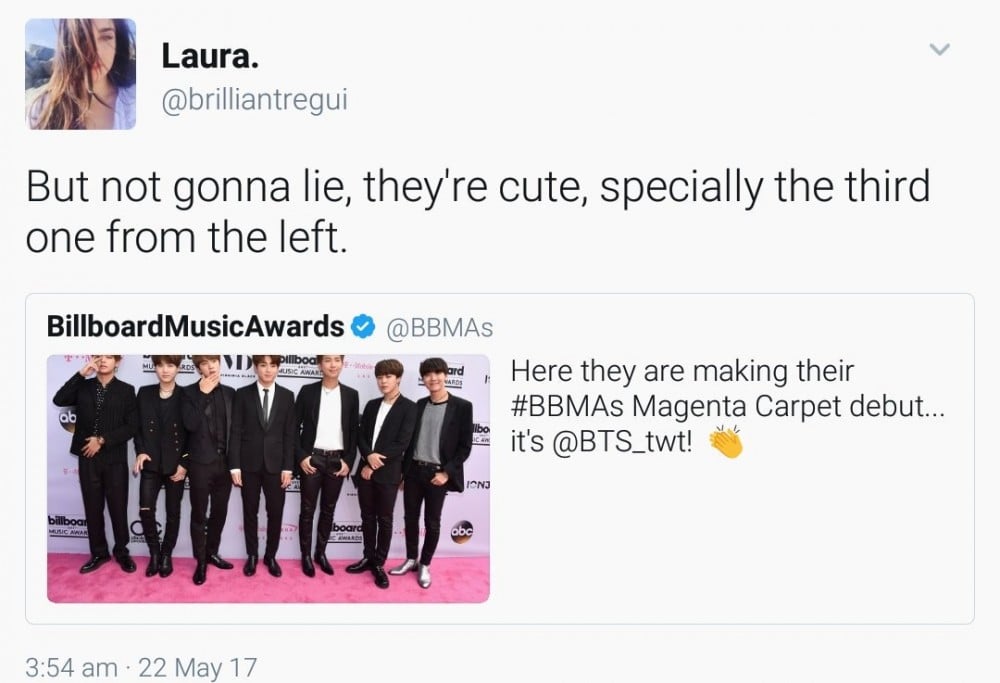 Stan twitter went abuzz with the question, Who is the third one from the left? Army is quick to introduce BTS oldest member Jin (Kim Seokjin). He really is BTS visual, army says.
During BTS BBMA's Press Conference, it was asked if BTS was aware of the trending topic on twitter. It was acknowledged that it was in fact Jin. At time stamp 10:36, we can see the MC asking who the person was and Jin went on to admit and said he is amazed that he is still considered handsome outside of his hometown South Korea. "Oh yeah, I am worldwide handsome, you know" says Jin. And just like that, Jin gave birth to his moniker, worldwide handsome much to the amusement of the other BTS members.
Thanks to Jin's brilliant brain, quick wit and a penchant for PR, he was able to make worldwide handsome his own. If you search for worldwide handsome in google,
https://www.google.com/search?q=worldwide+handsome&oq=worldwide+handsome&aqs=chrome..69i57j0l5.3800j0j4&sourceid=chrome&ie=UTF-8
you will be bombarded by Jin's otherworldly visuals.

Jin has then on truly embraced worldwide handsome, and no one is more deserving than him of this title. Good Job Seokin!