More women have taken to the streets to protest the injustice of the Burning Sun investigations.

Over 1,700 women dressed in black raised their voices in anger in front of the Blue House on Saturday on the 19th saying "Why do you keep turning away from the crimes?" We can no longer lose more sisters to this injustice." The women were criticizing the results of the 'Burning Sun case' in which 152 police investigators investigated for 105 days but failed to achieve much in results.

Following the rally on the 17th, a demonstration of the injustice of the r*pe cartels was held in front of the Blue House [Cheongwadae] in Jongno-gu, Seoul on the 19th. The 1,700 participants [organizer's estimate] who were all women protested the injustice from the Burning Sun investigations saying that men exploited and r*ped women using drugs and the police helped by turning away and not investigating properly.

The rally, which started at 2:00PM KST continued to increase despite the heavy rains and at 4pm, the side roads were filled with participants and police had to set up fences to contain the protesters. Participants wearing raincoats and with umbrellas raised their voices holding orange pickets shouting "the brilliant performance of the rape cartels and police collusion." They also sang the song 'Dokdo is our land' and shouted that the "police, prosecutors, the legislature, and the judiciary are all criminals".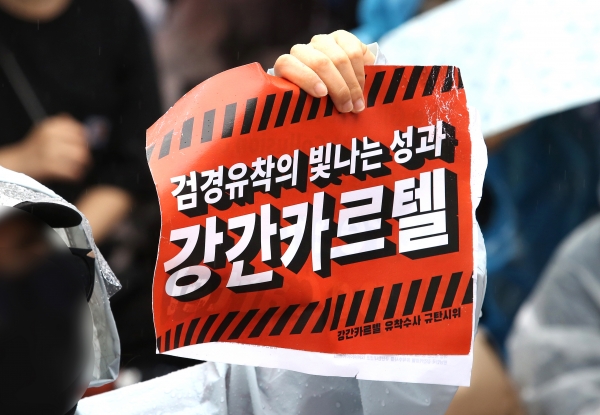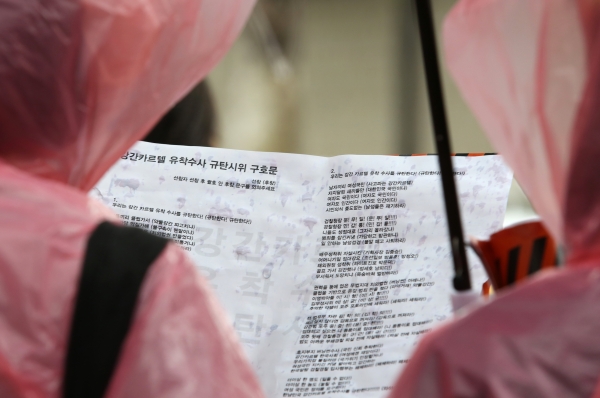 The organizers also pointed out the investigation into Burning Sun revealed all manners of injustice from sexual harassment, forced prostitution, illegal hidden filming, gang r*pe , snuff film shooting, drug trafficking, drug r*pes and more but the administration's investigation that has been handled exclusively by the men has been sluggish and the sentence of the judiciary is insufficient. They also called out the media for emphasizing all types of narratives that favor the perpetrators and don't focus on the main issue.

The women called for a thorough investigation into 'Burning Sun Gate' and called for a strong change in the government, the National Assembly, and courts, as well as the prosecution and police agencies. The organizers called for the President to take responsibility and make every effort to root out crimes by men and urged the National Assembly to revise the law on dealing with exploitation of women and pass a revision to the anti-sex violence law.

Regarding the alleged collusion between Burning Sun and the investigative agency, they also called for a full investigation of senior prosecutors and police officials.

This rally hosted by the "anonymous women" was similar to the demonstrations held at the Hyehwa Station last year and they gathered female participants through Twitter, Instagram, and Daum cafes.
Source: womennews.co.kr