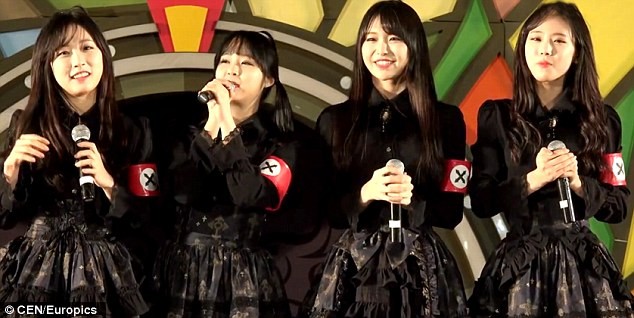 https://www.cnn.com/2018/11/13/asia/bts-simon-wiesenthal-complaint-intl/index.html

Jewish group says K-Pop band BTS should apologize over Nazi-style hats ; 2018.11.13

CNN NEWS closed their Article by *importantly* noting that -->
"Two years before that, (Nov. 2014) South Korean pop group PRITZ said they never intended
to look like NAZIs when they dressed in black shirts with red armbands in a music video."
[Per their Agency, PRITZ = (P)retty (R)angers (I)n the (T)errible (Z)one]
https://www.allkpop.com/article/2014/11/pritz-continue-to-wear-controversial-armbands
PRITZ continues to wear controversial Quasi-NAZI Armbands + Agency confesses confusion


Some K-pop Fans now suspect that BTS Group members are DATING the PRITZ Group members.
GLOBAL K-pop Fans of both Groups are supporting a (S.Korea) BLUE HOUSE PETITION to investigate
this ASIAN Quasi-NAZI DATING possibility. A concerned K-pop Fan observed -->
"You are what you wear! Will they be NUDE next, while claiming to wear the EMPEROR'S NEW CLOTHES?"
https://en.wikipedia.org/wiki/The_Emperor's_New_Clothes
(Trolling) ... STAY ALERT for further revelations of PRITZ and BTS Groups members DATING !!! ... ;)