OH!GG (GIRLS' GENERATION) – 'LIL' TOUCH'
---
Track List:
1. Lil' Touch
2. Fermata
3. Lil' Touch (Inst.)
4. Fermata (Inst.)

Girls' Generation
has unveiled their new sub-unit
Oh!GG
. The group consists of
Taeyeon
,
Sunny
,
Hyoyeon
,
Yuri
, and
YoonA
(aka all the members still signed under
SM Entertainment
). The MV broke all previous records for a group/subunit debut, gaining 9.02 million views in 24 hours, dethroning rookie boy band
Stray Kids
. Their first single album is dubbed "
Lil' Touch
." 
"
Lil' Touch
" is the title track (in case you couldn't guess). This is a song that shows they're listening to the competition. Very much in the style of
(G)I-DLE
, this song has the nonsense words driving the chorus, the minimalist main verses, the beat and style were all there. Nothing wrong with the approach, but it sounded really familiar, and not in a
Girls' Generation
way. Still, I love the song. Very club-banger-y and urgent, it's a serious jam.
They slow it way down on "
Fermata
," and I think they really shine on here. These girls can really harmonize, and the result is a beautiful song. The subtle synth flourishes go with this song so well, unobtrusive, giving it even more of a billowy and dreamlike feel. Out of the two songs on here, I like this one the best.
I think in some ways
Girls' Generation
was in a rut. Their releases became more sporadic and the quality was dropping. I think this sub-unit is a breath of fresh air for the band. Do I miss the other members? You bet. But these two songs have raised the bar and exceeded my expectations. I'm dying to hear more from these talented ladies.
MV REVIEW
In black lace and gossamer, the members of Oh!GG present themselves with grace and style, with a little bit of foreboding as well.
And that's largely the MV. There are great shots of them dancing (along with seamless costume and set changes), and the individual shots show them amidst flowers, chandeliers, running down hallways, with spider webs, snakes, an hourglass and a clock that are thrown into the mix.
Do the images make a lot of sense? Not on their own, no. But they all combine beautifully to give this MV a classy image. It's darkly sexy, with all that comes with it. No gun or knife needed for these girls to exude a sense of danger -- the devil is in the details.
A beautifully realized MV.
Score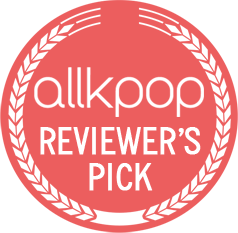 MV Relevance
.......9
MV Production
......9
MV Concept
..........9
MV SCORE: 9.0Songwriting
..........9
Composition
.........9
Impression
............9
ALBUM SCORE: 9.0
OVERALL............9.0