Recently after the various issues revolving Mnet's 'Produce 48', netizens seem to have formed a much more negative stance against "foreign idols", as the topic became a debate not only in regard to IZ*ONE, but also in regard to many other K-Pop idol groups in general.
On September 6, one netizen posted a list of "groups without a single foreign member". Other netizens quickly began adding groups to the list, until it grew, as such below. (Some names mentioned include: TVXQ, Big Bang, SHINee, BTS, G-Friend, MAMAMOO, A Pink, VIXX, B1A4, etc.)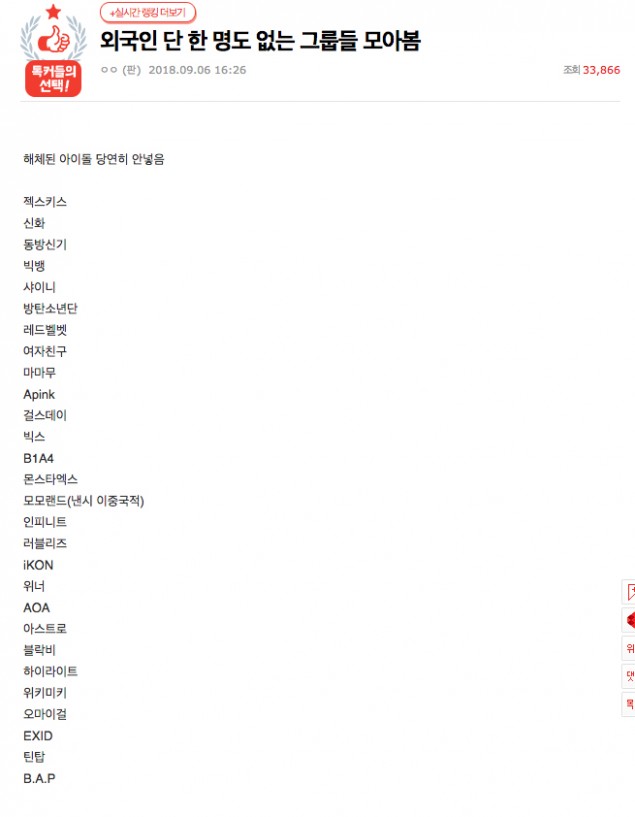 What's more is that many netizens reacted positively to this list of foreigner-less idol groups, making rash remarks about how foreign idols are "cosplaying as Korean", "cause controversies with their lack of knowledge in Korean history", and "make the definition of 'K-Pop idol' too broad".
Other comments included, "Popular groups are popular worldwide not because they have foreign members, but because the Korean members have that much appeal. Most big K-Pop groups with a lot of fans overseas have only or mostly Korean members", "How about foreign idols go to the army, instead of cosplaying as Korean and reaping all the benefits", "Woollim hasn't accepted any foreign trainees since the Tasty incident", "Most of the groups that I'm interested in are all listed here", "I love groups that don't have foreign members. Singers should be able to understand the meanings of the songs they're singing", "INFINITE, Lovelyz, Golden Child... the reason why I stan Woollim", "I usually prefer groups with only Korean members to those with foreign members, I don't know why", and more.
However, others did point out that the list "seems like a malicious post meant to diss idol groups with foreign members", while fans of groups which do include foreign members claimed that "you guys are bullying us". Debates also rose regarding idols who are Korean nationality-wise, but have foreign citizenships or lived abroad.