Fans caught
Jeon So Mi
'liking' certain comments on social media.
After news of
her leaving
JYP Entertainment
, many different speculations arose regarding the exact reason behind the termination. The agency refrained from further explanation along with the announcement, and Jeon So Mi shortly afterwards
took to Instagram
to thank fans for their support.
Whilst on Instagram, Jeon So Mi 'liked' a few comments in particular left by fans. One comment was, "Love you, So Mi TT TT It doesn't matter where you shine!! Because you will succeed wherever you are!!", suggesting that her stay in JYPE does not correlate to her success.
Another comment which stirred up attention was, "My past 1-pick So Mi, I will support you no matter where you debut. You will do everything well, wherever!! (Can't imagine) how much you must have longed for a re-debut after IOI...overusing your image...I hate JYPE for not making you debut, whether as a solo or a group."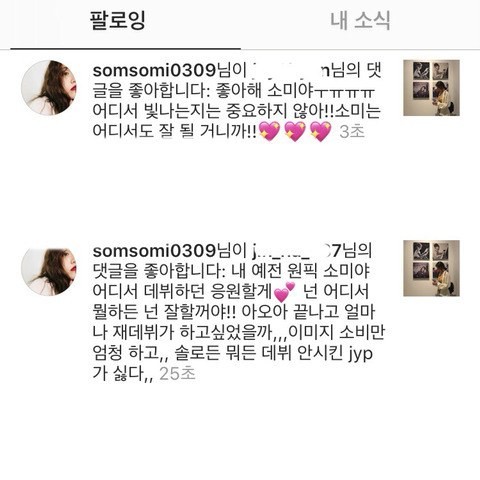 By catching Jeon So Mi liking these particular comments, fans reacted with worry since she could have parted ways with JYP Entertainment on a negative note. Some comments read, "
If JYP Entertainment announced that they are preparing a new girl group without So Mi, then it's obvious that she was simply kicked out, not 'terminated'
", "
If she liked a comment badmouthing JYPE then......
". 


On another hand, some netizens commented that it might have been a fair parting, if JYPE saw fit that she did not necessarily "belong" to their new girl group. 
What are your thoughts on this issue?