B1A4
's
Baro
apologized to his fans.
Hello, this is B1A4's Baro.
First of all, I'm sincerely sorry for hurting the fans who have always supported and cherished me. I'm still scared becuase I don't know how to express my thoughts into words to my fans. I'm also worried that I have to relay my thoughts in a letter, and that maybe some fans will be hurt more by my words. However, I'm been getting courage from all of your words, and I'm writing this now.
It's been 7 years since B1A4 debuted.
To be, B1A4 is something so natural to me that I don't know where the time went. BANA is also something that is always with me, like air, so I think I've become someone who's used to getting the love. I think I was rude to everyone who loves me by thinking I was cool sharing my everyday life and in the way I expressed my thoughts. I think because of my foolish and lacking actions, I hurt the fans who love me. I'm sorry to fans who tried to brush over the pain that I gave you, and to those who believed in me, all because you loved me. I am so sorry and if I could, I would turn back time.


But from now on, I will look back on myself today and work hard to become a person who can give back to my fans. I know this post won't make the previous pains better, but I'll give back by working harder.

Also, I'm sorry that I posted this so late. From now on, I'll act instead of talking about acting, and give love instead of pain.

I'll remember all my gratitude and become a person who etches this emotion into my heart.

Thank you.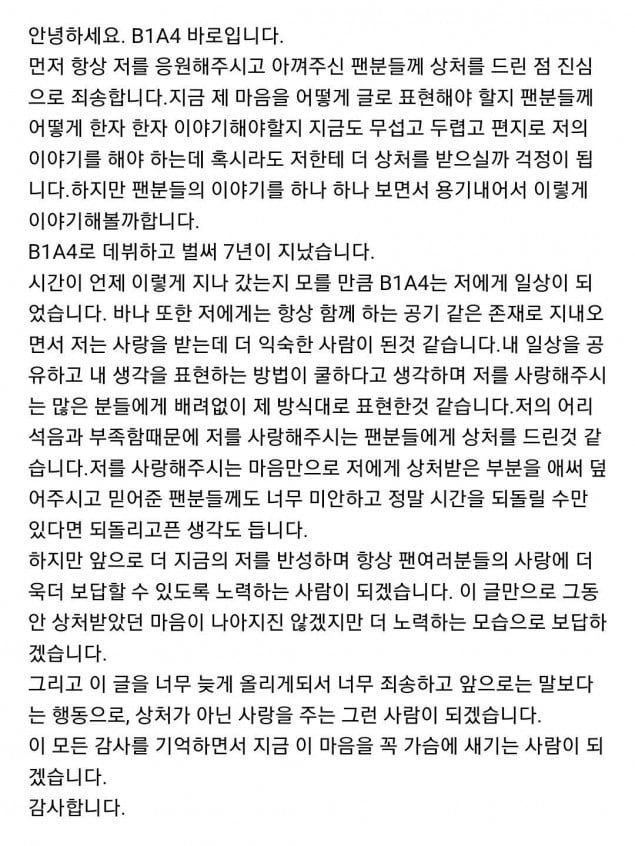 Baro had been criticized by many fans because of a supposed 'lovestagram' with a supposed girlfriend. The girlfriend has been denied, but many fans were also hurt by the way Baro expressed himself.