Serri recently started a Youtube Channel called Serriday, and began posting Vlogs and her idol experience.
One of the videos that caught fans' attention is her video on plastic surgery in idols, and her surprising reveal of getting breast implants, jawline botox, and whitening fillers.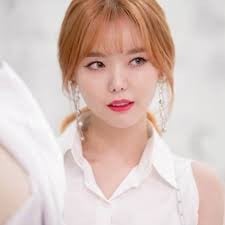 When the question was asked, "Did your agency force you to do any surgeries?" (This was at 1:33 fyi)
She answered by sighing and saying "When I was a trainee, the CEO suggested I should get breast enlargement surgery. I personally seriously did not want to do it, like at the time I thought 'I'm not very bad looking and still very young, but why should I need this?' And the CEO persuaded her by saying that it will benefit her look and image. While she did say ' Sir, it's not like I do not have breasts...'" but she did end up giving in to his pressure.
Later on in 2:15, the question, "Did you ever get plastic surgery because you wanted to?" is asked.
She begins by saying how her nose was always a complex, and she was bullied for having a "Michael Jackson like nose". She revealed that she got it done last year.
In 0:53, the question "Is there a specific surgery that a lot of idols do?" is asked.
She quoted, " Many idols tend to get fillers or botox. Personally, I haven't gotten any fillers, but I did get jaw botox. It has a clear effect, and if a male does it it has an even greater effect. If a male has a lot of muscle and is naturally big built and want to get their jaws cleaned up, jaw botox is quite ok."
Meanwhile, Dal Shabet fans are still waiting for a comeback.