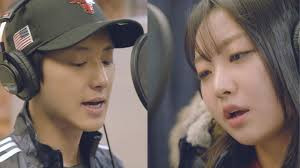 Korean dramas have made their mark on the global stage, earning a massive fan base that follows each new project of their favorite Korean actors. An essential feature that often increases the popularity and remembrance of these dramas globally is the Original SoundTrack (OST). These soundtracks often lead to a surge in the drama's ratings on the charts. Therefore, directors tend to entrust these OSTs to the most talented and admired singers in the South Korean music industry.


An immortal classic in the world of K-dramas is "Goblin," which aired in 2016 starring renowned actors Gong Yoo and Lee Dong Wook. The drama's OST "Stay with Me," a mesmerizing collaboration between Chanyeol from the boyband EXO, and the singer Punch reached unprecedented levels of success. Remarkably, it continued to outrank other K-drama OSTs even eight years after its release.

In a recent milestone, the legendary OST "Stay With Me" has soared past 450 million views on YouTube, firmly maintaining its title as the most viewed K-drama OST of all time.

Chanyeol, despite not having debuted as a solo artist, has further set Spotify ablaze, with "Stay With Me" becoming the most-played song by an EXO member and SM soloist on the platform with over 275 million streams.