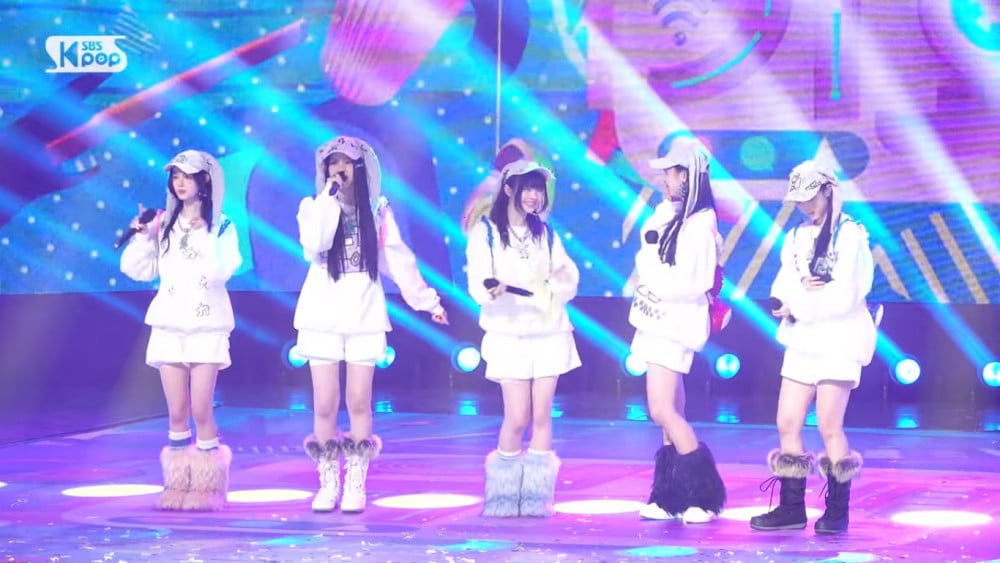 Netizens are commenting on NewJeans' live encore stage on 'Inkigayo.'
As announced, NewJeans won #1 on the January 15th episode of the SBS music program. The week's winners got on stage for their encore performance of "OMG." As noted on previous occations, the AR-free live-singing that is guaranteed for most encore stages has grabbed K-pop fans' attention for quite some time.
During the encore stage, NewJeans members each held a microphone and sang their parts. In the comments section, netizens were pleasantly entertained by their live singing abilities and wrote that "Hanni is exceptionally good," which set the bar high for the group.
Many also commented on Hyein's "beautiful vocal tone" and Danielle's "confidence" while singing live.
More comments and reactions include:

"Hanni is sooooooooo good"
"Hanni's vocal range is amazing and she has power"
"Can't believe how good Hanni is"
"Hyein's vocal color is so beautiful"
"Hyein has such a beautiful voice"
"They are all good except for maybe the beginning"
"Is there something wrong with Minji's in-ear buds? Looks like Minji is a bit nervous and could work on her confidence"
"Can't hear Haerin very well but they are all pretty good"
"Hyein and Hanni are both so good; in dancing and in singing"
"Really good"
"Is Hanni the main vocalist?"
"I think Haerin could work on increasing her confidence"
"Gets better towards the end"
"Is Minji a rapper?"
What is your reaction to this encore?