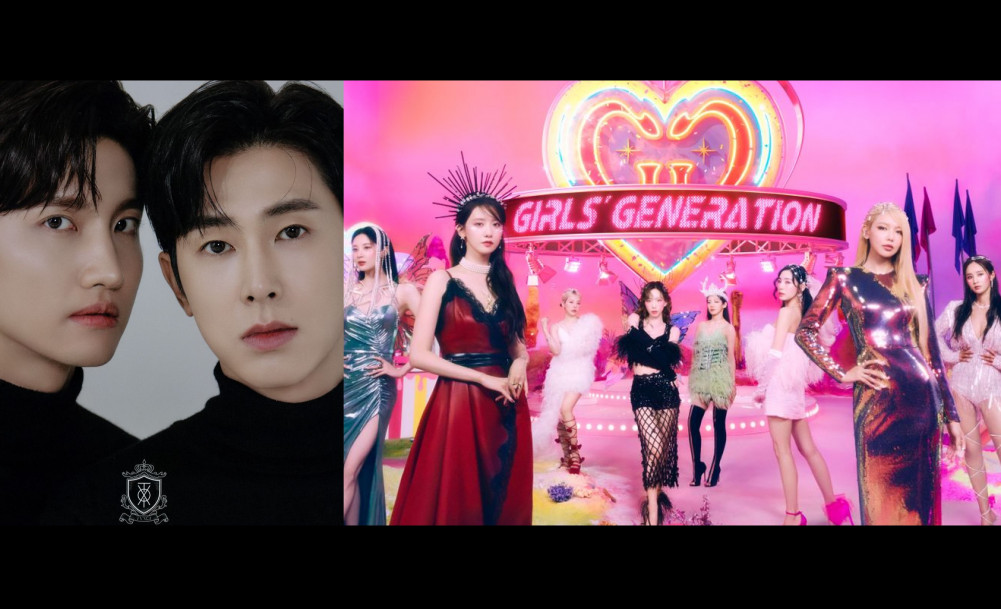 How 'old' are some of the most loved idol groups?
On an online community forum, netizens discussed the debut dates of idol groups, from veteran teams to new rookies. According to their years active, the oldest group in the list was Shinhwa, 26-years-old, and the youngest was NewJeans, 2-years-old (based on the Korean way of counting age).
Some could not believe that TVXQ was already turning 21, while Girls' Generation was turning 17 along with KARA and F.T. Island. In the comments' section, one netizen shared that they were born on the same day as Shinhwa's debut.
Do you also share any birthdays with these groups? Which group's 'age' surprises you the most?
Shinhwa : 26 (1998/3/24) [March 24, 1998]
g.o.d : 25 (1999/1/13)
TVXQ : 21 (2003/12/26)
Super Junior :19 (2005/11/06)
Big Bang : 18 (2006/8/19)
Wonder Girls : 17 (2007/2/10)
KARA : 17 (2007/3/29)
F.T. Island : 17 (2007/6/7)
Girls' Generation : 17 (2007/8/5)
SHINee : 16 (2008/5/25)
2AM : 16 (2008/7/11)
2PM : 16 (2008/9/4)
IU : 16 (2008/9/18)
Highlight (formerly BEAST): 15 (2009/10/16)
CN Blue : 14 (10/1/14)
INFINITE : 14 (2010/06/09)
TEEN TOP : 14 (2010/07/10)
BLOCK B : 13 (2011/04/15)
Apink : 13 (2011/4/19)
B1A4 : 13 (2011/4/23)
BTOB : 12(2012/3/21)
EXO : 12 (2012/4/8)
VIXX : 12(2012/5/24)
BTS : 11(2013/6/13)
MAMAMOO : 10 (2014/6/19)
Red Velvet : 10 (2014/8/1)
WINNER : 10 (2014/8/17)
Lovelyz : 10 (14/11/12)
GFriend : 9 (2015/1/16)
CLC : 9 (2015/3/18)
Oh My Girl : 9 (2015/4/21)
MONSTA X : 9 (2015/5/14)
Seventeen : 9 (2015/5/26)
DAY6 : 9 (2015/09/07)
UP10TION: 9 (2015/9/10)
iKON : 9 (2015/9/15)
TWICE : 9 (2015/10/20)
ASTRO : 8 (2016/2/23)
WJSN : 8 (2016/2/25)
NCT 127 : 8 (2016/7/7)
BLACKPINK : 8 (2016/8/8)
NCT Dream : 8 (2016/8/25)
SF9 : 8 (2016/10/5 )
Pentagon : 8 (2016/10/10)
VICTON : 8 (2016/11/09)
Dream Catcher : 7 (2017/01/13)
ONF : 7 (2017.08.03)
Golden Child : 7 (17/08/28)
The Boyz : 7 (2017/12/6)
fromis_9 : 6 (2018/1/24)
Stray Kids : 6 (2018/3/25)
(G)I-DLE : 6 (2018/5/2)
LOONA : 6 (2018/8/19)
ATEEZ : 6 (2018/10/24)
ONEUS : 5 (2019/1/9)
ITZY : 5 (2019/2/12)
VERIVERY : 5 (2019/1/9)
TOMORROW x TOGETHER : 5 (2019/3/4)
DKZ : 5 (2019/4/24)
AB6IX : 5 (2019/5/22)
CIX : 5 (2019/7/23)
MCND : 4 (2020/02/27)
CRAVITY : 4 (2020/4/14)
LIGHTSUM : 4 (21/6/10)
Weeekly : 4(2020/6/30)
TREASURE : 4 (2020/8/7)
STAYC: 4 (2020/11/12)
aespa : 4 (2020/11/17)
ENHYPEN : 4 (2020/11/30)
Billllie: 3 (2021/11/11)
IVE : 3 (2021/12/1)
Xdinary Heroes : 3 (2021/12/6)
Kep1er : 2 (2022/1/3)
NMIXX: 2 (2022/2/2)
TEMPEST : 2 (2022/3/2)
LE SSERAFIM : 2 (2022/5/2)
NewJeans : 2 (2022/8/1)