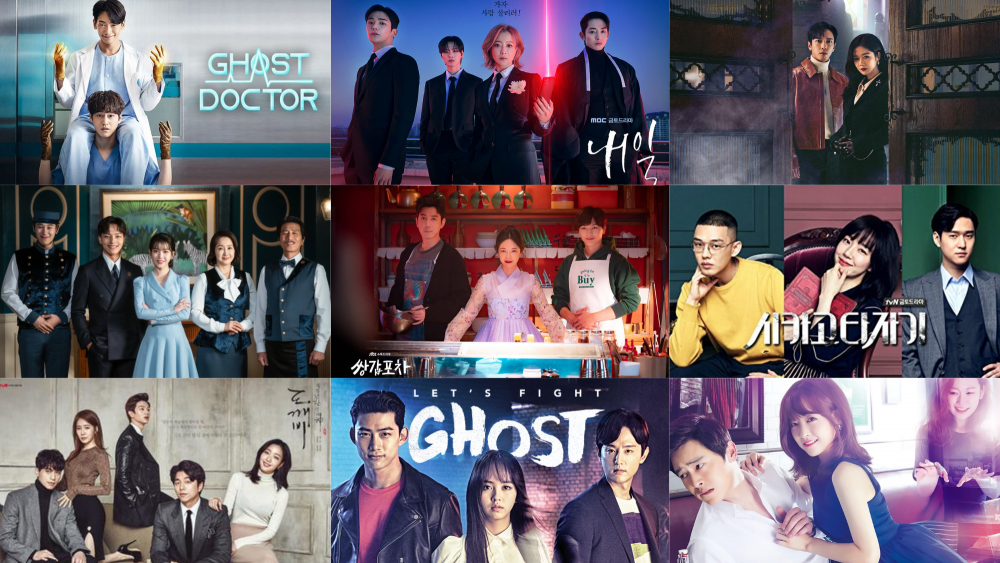 With Halloween month coming up, it's a great time to watch K-Dramas with ghosts as their central theme. Some of these dramas can be fun and cute, others make it look human, but some would keep you up at night with how terrifying they look.
Ghost Doctor (2022)
This fun medical drama starring Rain and Kim Bum is a must-watch. The drama revolves around two doctors, Cha Young Min (Rain) and Go Seung Tak (Kim Bum), who come from extreme backgrounds and have completely opposite personalities and medical skills. Young Min is a high-skilled cardiothoracic surgeon but is arrogant and selfish, while Seung Tak is also brilliant; he has a fear of blood and has a secret ability. One day, Young Min gets involved in an unexpected accident; his spirit possesses Seung Tak's body.

Tomorrow (2022)
If you count being half-human-half-spirit as ghosts, then this drama is it. Technically, you see other ghosts throughout this drama, so, yes, this counts. Choi Jun Woong (Rowoon) is a young job seeker who is unable to secure a job, and through an accident, he is accidentally employed by a company of grim reapers in the underworld to prevent suicides. This drama was critically acclaimed because it sheds light on eating disorders, sexual harassment, and other mental health issues.

Sell Your Haunted House (2021)


Hong Ji Ah (Jang Na Ra) is a real estate broker who owns Daebak Real Estate. She is also an exorcist who inherited the ability from her deceased mother. Her business offers the service to clean buildings where ghosts frequent and people have died in. Oh In Beom (Jung Yong Hwa) is a con artist who uses ghosts to earn money. Basically, he's a fake ghost buster, while Ji Ah is an actual buster, but they both have tragic pasts that are intertwined with each other.

Just a little warning, if you can't handle scary visuals, this is one of the dramas with ghosts that are hauntingly scary. It's not an entirely haunting drama, but it does pop up here and there.

Hotel Del Luna (2019)
Aside from IU's outfit being absolutely gorgeous every episode, this drama was the talk of the town in 2019 for how good it was. This mystery, romance, and fantasy drama tells the story of Jang Man Wol (IU), who was cursed to run a supernatural hotel that caters to ghosts coming to terms with unfinished business in their former lives before they pass on to the afterlife and cycle of reincarnation. After a thousand years, things finally change after Goo Chan Sung (Yeo Jin Goo) becomes the hotel's manager.


Mystic Pop-Up Bar (2020)
Yook Sung Jae's last drama before he enlisted in 2020, this warm, heartfelt drama tells the story of Weol Ju (Hwang Jung Eum), who runs an outdoor bar that is sentenced to settle the grudges of 100,000 souls. Kang Bae (Yook Sung Jae), who has a unique ability to make people pour out all their troubles with a single touch, makes him valuable to Weol Ju, where he then becomes a part-time employee at the outdoor bar.


Chicago Typewriter (2017)
Taking the term ghostwriter a little too literally, this drama is about three writers that lived under Japanese rule in the 1930s who are reincarnated into a bestselling writer who is in a slump, a mysterious ghostwriter, and an anti-fan of the bestselling writer. Yoo Ah In, Im Soo Jung, and Go Kyung Pyo starred in this epic story of camaraderie, friendship, love, and betrayal that lasted 80 years.

Goblin, or Guardian: The Lonely and Great God (2016)
Whether you are a K-Drama fan or not, you certainly would have heard of this popular drama. Although this drama does not have any ghostly aspects, it has that one horrifyingly scary-looking character that made me jump out of my seat when he appeared. In his quest for a bride to break his immortal curse, the Goblin, or Kim Shin (Gong Yoo), meets a grim reaper (Lee Dong Wook) and a sprightly student (Kim Go Eun) with a tragic past.
Let's Fight Ghost (2016)
Before Ok Taec Yeon was a psycho chaebol in Vincenzo, he was an innocent Economics student who can see and interact with ghosts. Due to his unique abilities, he grew up avoiding people and was always a loner. That was until he met Kim Hyun Ji (Kim So Hyun), a feisty high school student who, because of a traffic accident, became a wandering spirit.


Oh My Ghost (2015)

Na Bong-Sun (Park Bo Young) is timid, quiet, and has no friends. That's until she is possessed by a virgin ghost, who is determined to seduce as many men as she can because she believes that only by losing her virginity will she be able to "resolve her grudge" and move on to the afterlife.