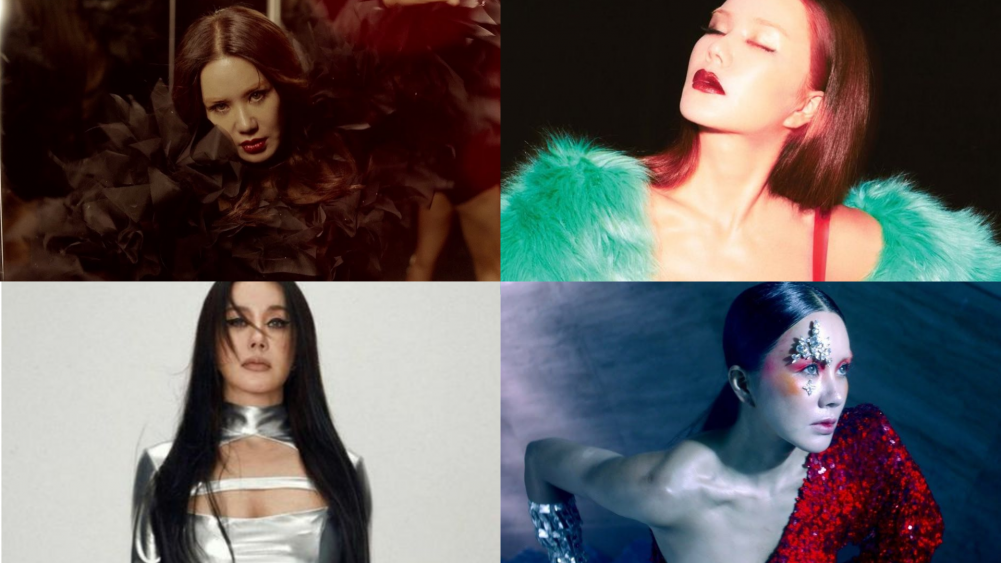 There are only a few people who have established stable popularity and accomplishments throughout the whole duration of their careers, and one of them is the South Korean singer, actress, and dancer by the name of Uhm Jung Hwa. She is regarded as one of the most significant female figures in Korean entertainment due to her exceptional success in both music and film. She has earned the moniker "Korean Madonna" thanks to her legacy and career redefinitions.

Her career began in 1989 as a chorus member for the major broadcasting company, MBC. After her debut studio album, "Sorrowful Secret," was released in 1993, Uhm Jung Hwa made her formal musical debut. She became well-known as one of Korea's top female singers and performers by the mid-90s, thanks to a string of successful singles. In the same year, 1993, she also officially debuted as an actress, as she starred in the romance drama film "On a Windy Day, We Must Go to Apgujeong."
She launched her new clothing and lingerie lines, "Corner Suite" and "ZHUM in New York." Within three months of its debut, her new clothes and lingerie line generated 10 million USD. When the line appeared on internet platforms, "Corner Suite" became a huge success. The queue was quickly sold out. Her clothing line was featured on more home shopping channels because of the high demand.
She had thyroid cancer, but following surgery in May 2010, she made a full recovery. Before the surgery, Uhm Jung Hwa admitted to having some apprehension regarding the procedure, but she decided not to let the agony she was feeling deter her from her goal of dedicating herself to helping others by motivating them with her talent and influence.

She indeed became and continued to be a great influence, as she has been named as a role model by many famous artists, such as BoA, Lee Hyo Ri, Baek Ji Young, Sandara Park, Tiffany Young, Son Dam Bi, and Park Cho Rong, to name some.

Here are some of her various projects as a singer, actress, and entertainer!
As a Singer
Uhm Jung Hwa was a phenomenal singer, with different singles and songs that charted and became hits. She has won multiple Bonsang Awards (Song Division) from Golden Disc Awards, during the years 1998, 1999, and 2000. She also won the Best Female Artist from the Mnet Asian Music Awards (MAMA Awards) in 1999. She also won the Main Prize (Daesang) from SBS Gayo Daejeon in 2000 and 2001. She also won the Best Electronic Dance Album at the Korean Music Awards in 2007. Here are some of the songs of the "Korean Madonna," Jung Hwa!

"Sorrowful Secret" (1993)
"Pupil" (1993)
"Sad Expectation" (1996)
Featured on Jinusean's song "Tell Me" (1997)
"Rose of Betrayal" (1997)
"Poison" (1998)

"Invitation" (1998)

"I Don't Know" (1999)

"Festival" (1999)

"Escape" (2000)

"All Go Away" (2001)

"Eternity" (2004)

"Come 2 Me" (2006)

"D.I.S.C.O" (2008)
feat. T.O.P

"D.I.S.C.O Part 2" (2008)
feat. G-Dragon

"Watch Me Move" (2016)

"Dreamer" (2016)
"Ending Credit" (2017)
"Let Me Cry" (2017)

You Are Too Much OST

"Hop In" (2020)
"Don't Touch Me"
As an Actress
Her success as an actress is a different story, debuting the same year as she debuted formally in the music industry. She received the same level of success, being renowned by viewers and critics alike for her acting. At her debut in 1993, she won the Best Supporting Actress award from the 17th Golden Cinema Film Festival for her role in "On a Windy Day, We Must Go to Apgujeong." She also won the Best Actress Award for Film two times from the prestigious award-giving body, Baeksang Arts Awards, one in 2003 for "Marriage Is a Crazy Thing" and one in 2012 for "Dancing Queen." She also won multiple Best Actress awards from different award-giving bodies, such as the 2003 KBS Drama Awards, the 7th Busan Film Critics Awards, the 18th Chunsa Film Art Awards, 50th Grand Bell Awards, and the 21st Korean Culture Entertainment Awards. Here are some of the films and dramas Uhm Jung Hwa has starred in!

Films
"Singles" (2003)
"Mr. Hong" (2004)
"Princess Aurora" (2005)
"Seducing Mr. Perfect" (2006)
"Haeundae" (2009)

"Dancing Queen" (2012)
"Montage" (2013)

"Venus Talk" (2014)

"Wonderful Nightmare" (2015)

Dramas

"He Who Can't Marry" (2009)
"A Witch's Love" (2014)

"You Are Too Much" (2017)
"Our Blues"

As an entertainer

She has also guested and participated in various variety shows, showcasing her charms and wit. She has won the Excellence Award in Music/Talk Category – Female during the 20th MBC Entertainment Awards. Here are some of the variety shows she has been part of.
"Hangout with Yoo" (2020)

"On and Off" (2021)
Here's a quick shortlist of the very rich history of Uhm Jung Hwa as a great woman in the entertainment industry- from acting, dancing, and entertaining! She's indeed a tremendous influence on aspiring singers and actresses and an inspiration to many other famous people. How did you come to know Uhm Jung Hwa, and which of her projects did you love the most?