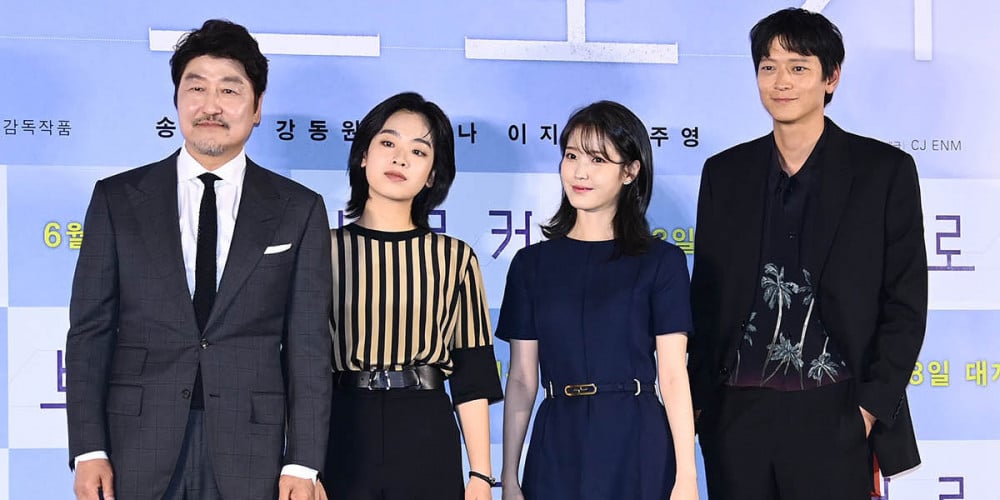 On May 10, cast members Song Kang Ho, Kang Dong Won, IU, and Lee Joo Young of the anticipated film 'Broker', directed by Koreeda Hirokazu, attended a press conference at CGV Yongsan I'Park Mall. Director Koreeda appeared at the press conference via video call.
On this day, the cast members exchanged friendly remarks about the chemistry they shared on the filming set of 'Broker'. In particular, veteran actor Song Kang Ho praised his co-stars IU, Bae Doo Na, and Lee Joo Young. The actor remarked, "All three of these actresses always deliver astounding performances with their projects. There was one scene by Lee Ji Eun (IU), where she had a conversation with the two detectives, and she not only had meticulous technique, but also conveyed the character's emotions exactly using skillful methods, and I was amazed. It was a scene that required her to express many different, complex emotions, and her performance was just perfect. I had to bring her aside to give her praise. It was that great. It is not something I do often. Kang Dong Won never received that kind of praise from me (laughter)."
Hearing this, IU happily commented, "That moment will leave a very strong impression on my for the rest of my life. When we wrapped up that scene, it was around the last part of sunset, and [Song Kang Ho] sunbaenim was waiting for me, without having departed the set. I quickly ran to him, and he told me, 'I monitored your scene, and it was very well done'. To me, the memory of sunbaenim telling me that was so moving, like a scene from a movie, and it brought me to tears. I even called my parents to boast about it."
Check out the cast members of 'Broker' attending their press conference, below!