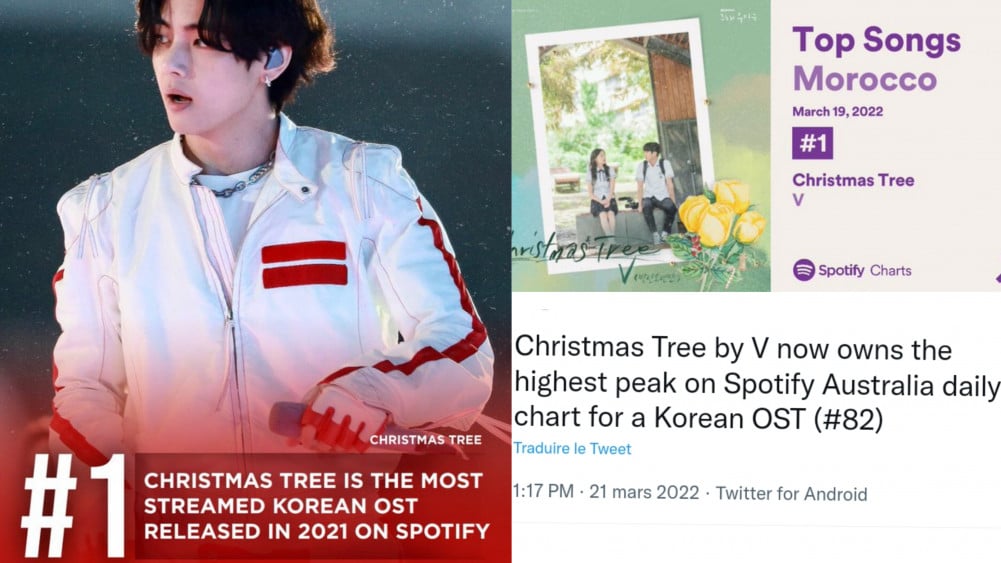 It's been 88 days since "Christmas Tree" was released, and the song is still dominating charts and gaining love from everywhere.
V stabilized his popularity in Arabic Countries as he keeps setting records and achievements.
He is "The First Asian Soloist To Top Spotify Morocco Daily Top Songs" with "Christmas Tree" holding "The Highest Peak In Streams For An Asian Act On The Chart."
V also has "The Highest Peak On Morocco's Spotify Daily Artist Chart For An Asian Soloist."
"Christmas Tree" was the top gainer in Saudi Arabia Spotify and spent 95 days on the chart.
"Christmas Tree" maintains its status as a global hit, peaking in every chart worldwide.
The OST became "The First Korean OST In History To Debut On Spotify Australia," it holds "The Highest Peak For A Korean OST" and spent seven days on the chart.
V now bagged another record along with "The Most Streamed OST Of All Time" he has "The Most Streamed Korean OST Released In 2021" with "Christmas Tree" surpassing "Love me like" that by "Sam Kim."

V's Spotify account gathered 100 million streams in 2022 so far, with just three unpromoted OSTs.