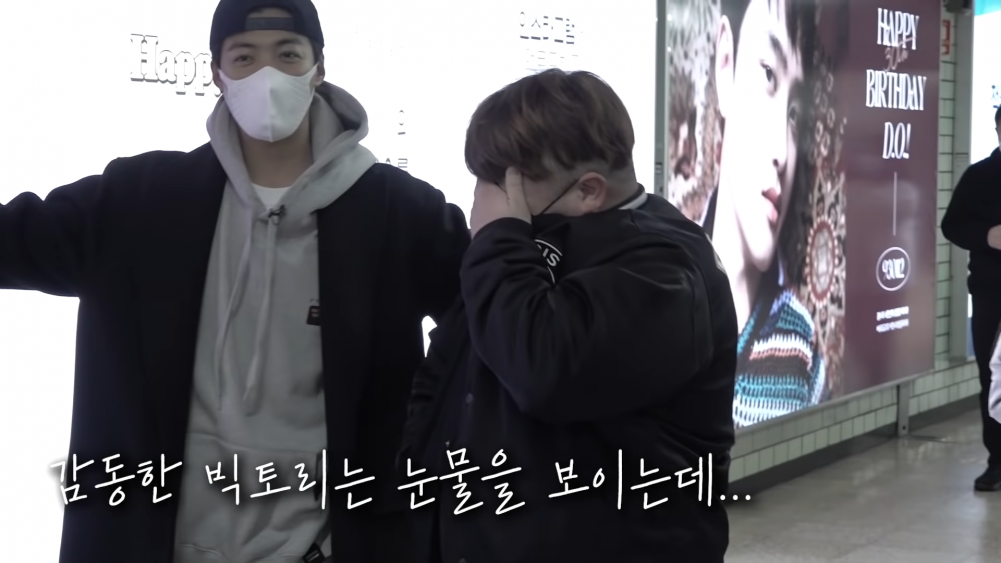 Kangnam made his 'subway friend' of eight years cry by giving him touching gifts of 10 million KRW (~8,325 USD).

On February 28, Kangnam posted a video on this YouTube channel showing the event he had planned for his friend whom he met on a subway eight years ago.

Kangnam began by explaining, "Thanks to my friend Choi Seung Ri, I was able to be successful. I was able to film variety shows and I was able to meet my wife. Thanks to him I am able to live smiling. I always felt thankful towards him but I don't think I ever gave him a proper gift so I prepared this to express my gratitude."

Kangnam revealed he had prepared a handwritten letter, a luxury watch, and a billboard ad for his friend. Kangnam revealed his resolution to make his friend cry saying, "I'm going to make him cry with my letter." Kangnam also revealed the reason he got the subway billboard ad saying, "I also want everyone to know I thankful I am to him." He continued to add, "I don't think he would be touched with just a handwritten letter and billboard sign so..." and took out a luxurious Tag Heuer watch worth 8.5 million KRW (~7,072 USD). Kangnam revealed he had gone to the store to personally buy the watch and explained it is the same watch that soccer player Son Heung Min was seen wearing. In response, the producers asked Kangnam, "You gave him all three things. What will you do if he doesn't react much?" Kangnam answered, "I am going to take away everything."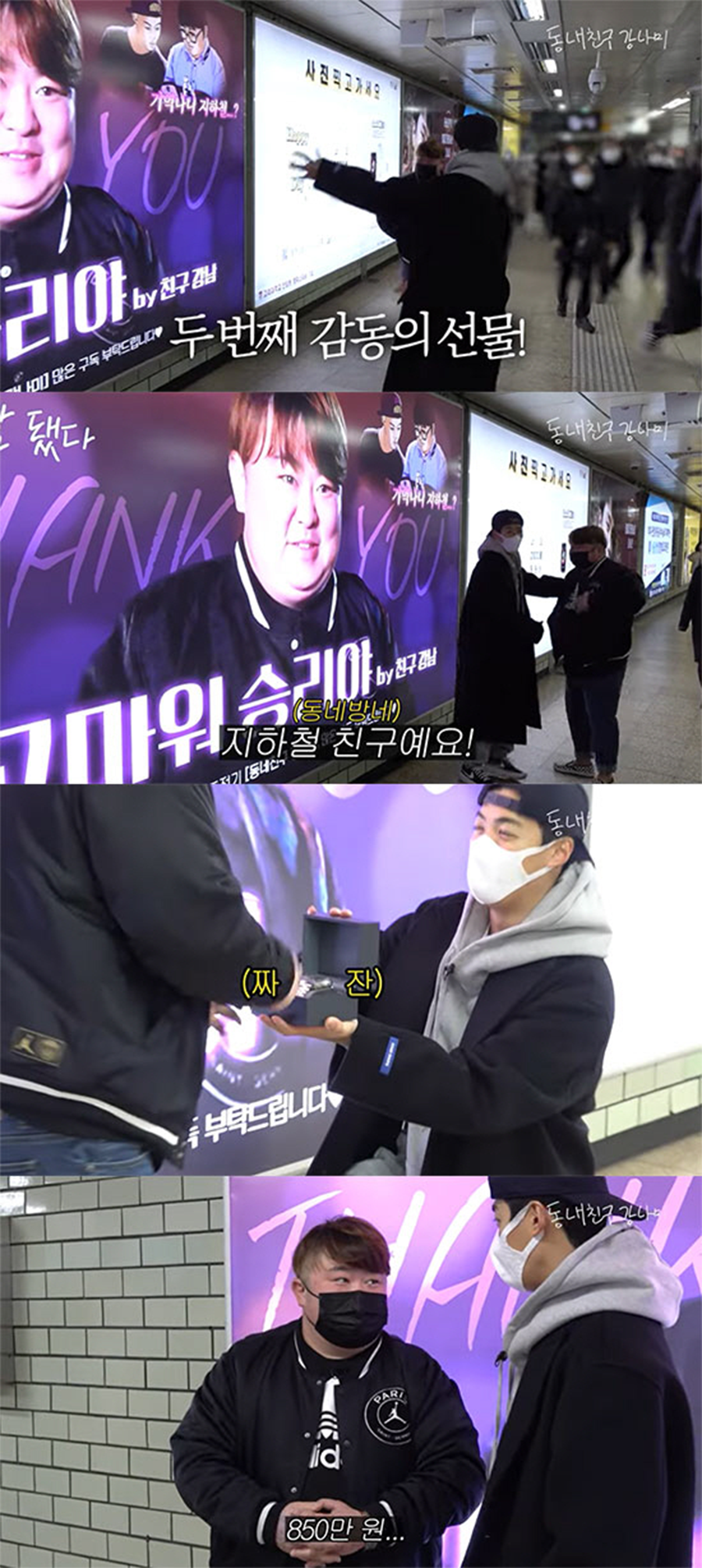 Soon, Kangnam's friend Choi Seung Ri arrived, and Kangnam welcomed his friend with a picket sign saying, "Seung Ri Thank you ♡.' When Choi Seung Ri saw the sign, he seemed shy, and Kangnam continued to explain, "We've been friends for eight years. When I met you on the subway, and you said we can broadcast it, I was able to gain success from 'I Live Alone,' and I got a good image from the public." Kangnam then handed over the first gift, which was the handwritten letter. Choi Seung Ri shyly went to say, "Oh, thank you. I love you too. You're lovely."
Then Kangnam took his friend to the Samsung station to show him the next gift. After seeing a large billboard ad with his face, Choi Seung Ri seemed taken aback and gave a nervous laugh saying, "What is this? I was surprised." Nevertheless, Kangnam continued to boast to the people around, saying, "This is my subway friend. I became successful thanks to this guy."
Kangnam continued to say, "this is not all," and went to kneel. Kangnam then said, "I became successful thanks to you. Thank you for being my friend," and handed him his final gift. Choi Seung Ri asked the price of the watch, and Kangnam shared it was 8.5 million KRW. Choi Seung Ro became shocked and went to say, "I'm so touched, I can't say anything. I feel like crying right now. I am so happy that I could die."